​SEC investigating Bank of America for putting customers funds at risk – report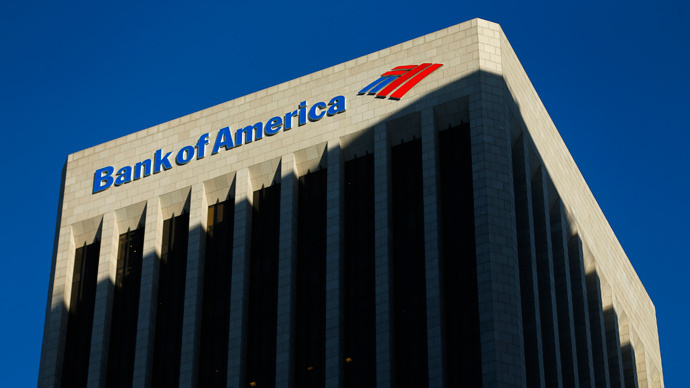 Bank of America may have put retail brokerage funds at risk in order to increase profits thus breaking a 40-year-old rule, the Wall Street Journal reports.
The Securities and Exchange Commission is investigating the bank amid claims the financial giant broke rules designed to safeguard the accounts of clients, the paper reported on Tuesday this week.
Specifically, the Journal alleges BofA may have run afoul of a provision from 1972 that requires investment banks and trading firms to have enough cash and securities set aside to easily repay customers in the event of failure.
According to the report, the SEC is investigating whether the bank conducted complex trades and loans within Merrill Lynch, a financial firm it acquired in 2009, to save upwards of millions of dollars annually by freeing up resources that would have otherwise been off limits. Under the 1972 mandate, the bank would have been required to have enough assets on hand to repay customers easily if a crisis unfolded.
'Fugazi P&L' - that's what some traders called BAML's 'leveraged conversion' strategy. SEC probing. @WSJ exclu. http://t.co/8MFuK7IAEi

— jenny strasburg (@jennystrasburg) April 28, 2015
"For example, if the bank needed to hedge its exposure to a multibillion-dollar position in, say, Apple Inc.'s shares, perhaps because of a trade with another client, the bank might arrange for one of the leveraged-conversion customers to do a big Apple-centric trade using the loan the bank had provided," Jenny Strasburg wrote for WSJ.
The SEC declined to comment for the Journal's report, and a representative for the North Carolina-based bank denied any wrongdoing.
"These transactions, which began at Merrill Lynch before the acquisition by Bank of America, received extensive review and approval," a spokeswoman for the bank told the paper. "The firm fully complied with the rules designed to safeguard client funds."
According to the Journal, the alleged practice was retired by Bank of America in mid-2012 after internal debates concerning potential risks. In the three years prior to that, however, sources who spoke with the newspaper claimed the bank moved billions of dollars through trades, which should have otherwise been put aside for clients.
You can share this story on social media: