'Mother of the year:' Baltimore woman slaps, scolds rioter (VIDEO)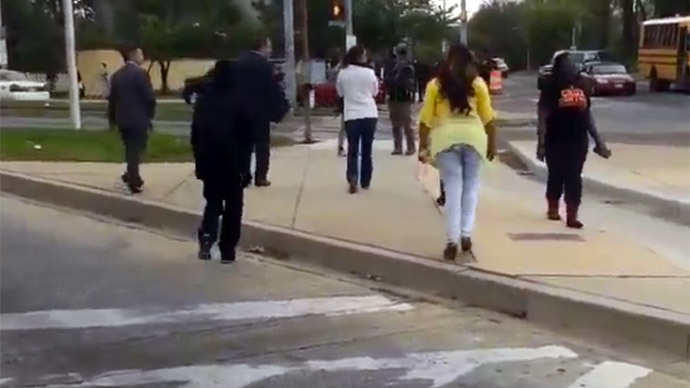 After apparently finding her son dressed in black riot gear, a Baltimore woman was captured on camera slapping the young man and marching him away from the police. The scene quickly went viral online, with the woman being dubbed "Mother of the Year."
Baltimore Mayor Stephanie Rawlings-Blake ordered a mandatory curfew to be imposed on Tuesday night after a violent riot erupted in the wake of the funeral for Freddie Gray, a young black man who died in police custody over a week ago.
READ MORE: Baltimore riot: Violent clashes, tear gas, rubber bullets after Freddie Gray funeral
Gray died as a result of severe injuries suffered in police custody. Escalating violence in the city pushed Rawlings-Blake to implement a week-long curfew, but one Baltimore woman took matters into her own hands when she found what many people believe to be her son ready to riot.
#Baltimore She is telling him to take himself home. Like every mother/sister should. #looting is not #protesting . #BaltimoreRiot #baltimorepurge #baltimoreprotest

A video posted by TJ (@jtcheri) on Apr 27, 2015 at 2:09pm PDT

Those three slaps in the video inspired a Twitter user to comment that the woman was "mom of the year" and that "She's just lookin' out for her son apparently."
A video captioned "that awkward moment you mom catches you rioting" also emerged. (WARNING: Strong language in this video)
#baltimoreriots #baltimore #FreddieGray ....This mother went and snatched her son from the #Baltimore #freddiegray Protests/riots #MediablackoutUSA (#RepostWhiz app)

A video posted by Simply'iSh (@simply.ish) on Apr 27, 2015 at 3:33pm PDT
From another angle, the apparent mother tries to expose her son's face by trying to tear off his balaclava hood, but she is unsuccessful. She then tells him to "Get the **** over here! Get over here."
That awkward moment your mom catches you rioting #baltimore #baltimoreriots #prayforthiskid

A video posted by Karla H. (@ine3) on Apr 27, 2015 at 2:07pm PDT
The final scene shows the son and mom, despite the distance between them, heading away from the riot together.
A video posted by Keezy (@yaasss_keez) on Apr 27, 2015 at 12:38pm PDT
The same day, Baltimore police asked parents to find their kids and get them off the streets.
Several juveniles are part of these aggressive groups. WE ARE ASKING ALL PARENTS TO LOCATE THEIR CHILDREN AND BRING THEM HOME.

— Baltimore Police (@BaltimorePolice) April 27, 2015
Under the curfew announced by Rawlings-Blake, no adults or minors will be allowed on the streets between 10pm and 5am from April 28 to May 5.
Prior to the curfew announcement, Maryland Gov. Larry Hogan declared a state of emergency for Baltimore as violence erupted.
READ MORE: Justice Department investigating death of man killed in Baltimore police custody
The protests began around 3pm, as young people were leaving school and started throwing rocks and bricks at police officers. Some officers threw rocks back and police responded with mace and tear gas. Fifteen officers were injured.
Since then, two-dozen people have been arrested and there has been massive looting and four separate fires in East and West Baltimore.