State Dept tries to steal show over US citizens' evacuation from Yemen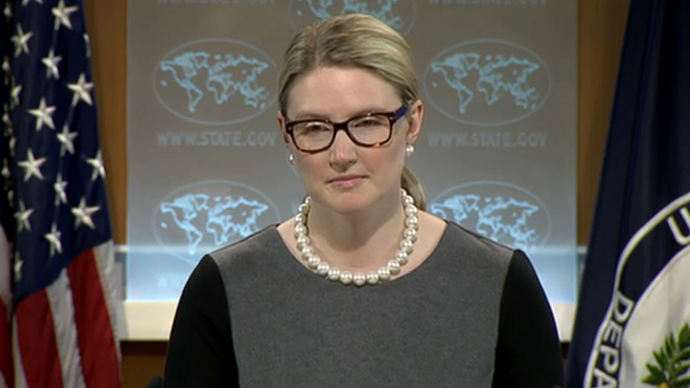 The US State Department says it has been issuing guidelines for US citizens stuck in Yemen on how to leave the war-torn country, but the 20 Americans evacuated by Russian planes say they haven't heard a word.
"Well, we have been collaborating for many, many weeks now,"said US State Department spokesperson, Marie Harf.
According to Harf, the US has been "talking to other countries, other organizations…who may have ways of getting American citizens out."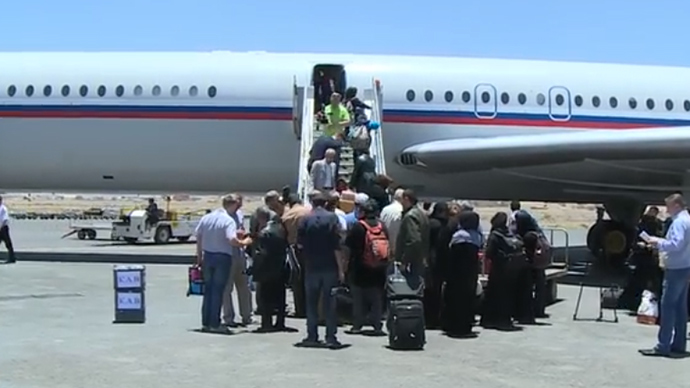 She commented on the recent evacuation of American citizens who were among the 200 taken from war-stricken Yemen by two Russian planes on Wednesday night. The planes' first stop was Djibouti, a tiny African country just across the Gulf of Aden from Yemen, that also happens to host the biggest US military base in Africa.
Plane 1 fully loaded. Russian, Ukrainian, Spanish, American citizens abroad - even the Cuban ambassador to #Yemen! pic.twitter.com/YU9PPQilNr

— Murad Gazdiev (@MuradoRT) April 22, 2015
Harf claimed that Washington actually has been letting US citizens in Yemen know "when there are other opportunities, talking to other countries, including the Indians and others, about how our citizens can get out."
"We also have been warning for many, many years now that people should not travel to Yemen, so we are working with other countries, but at this point, no plans to use US Government assets to do so."
READ MORE: No man left behind? US citizens fleeing Yemen tell RT of abandonment (VIDEO)
But reality turned out to be slightly different than as portrayed in Harf's fiery speech. On Wednesday these 20 Americans on Russia-bound flights from Yemen told RT that they had been left to their own devices and had had to resort to help from private organizations and foreign governments in order to flee the country.
"My cousin contacted us from the US. He got hold of the Russians and then contacted us. We only heard about it yesterday. We went from the village. It's a five-hour ride. We crossed that bridge. Twenty minutes later a missile hit the bridge we crossed," Mouhammed Nasser told RT's Murad Gazdiev.
Others spent a lot of time desperately trying to find a way out of Yemen.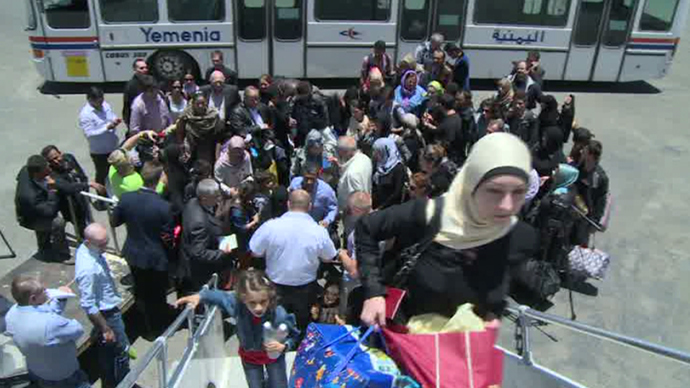 "I couldn't make it out. I had to wait. It took me weeks to find a flight out of [the capital] Sanaa. I started calling airlines, agencies, the UN, the Russian embassy," said Ismail Alafash, "Americans, they just kept sending us emails. They said basically: find your way out."
One more American Yemeni Kaled Alamarie said that he has been trying to evacuate his family for the last month and a half. He tried contacting the US State Department and the White House. "Nobody really helped until recently I was contacted by one of our community members that Russian plane is evacuating American citizens. I got lucky," he added.
READ MORE: US, UK thank Russia for evacuation of their citizens from Yemen
In early April, the US State Department said that "there are no plans for a US government-coordinated evacuation of US citizens at this time" in an official travel warning.
"We encourage all US citizens to shelter in a secure location until they are able to depart safely. US citizens wishing to depart should do so via commercial transportation options when they become available."
Department spokesman Jeff Rathke explained that the people trapped by Yemeni violence were there because they had ignored the US government's warnings.
"For more than 15 years the State Department has been advising US citizens to defer travel to Yemen. We have been advising those US citizens who are in Yemen to depart," he said.
In total, Russia has evacuated more than 1,700 people from the war-torn country, the Foreign Ministry said in a statement on Friday. About 400 of them have been Russian while others came from former Soviet republics like Ukraine, Uzbekistan, Armenia and Kazakhstan, as well as other countries including France, Cuba, Serbia, Colombia and Lebanon.
You can share this story on social media: