No man left behind? US citizens fleeing Yemen tell RT of abandonment (VIDEO)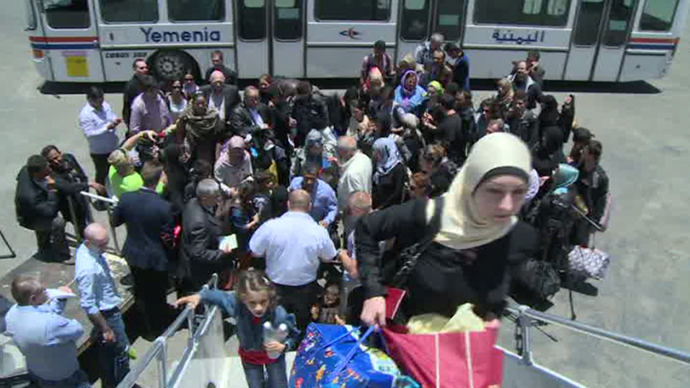 Some 20 American citizens were among the 200 evacuated on Wednesday night by two Russian planes from Yemen, where a Saudi-led coalition continues bombings. They related their ordeal to RT's correspondent.
Saudi Arabia declared on Tuesday it had achieved all the goals of its four-week operation 'Decisive Storm' and is replacing it with a new one called 'Restoring Hope'. While the Saudi military said it would focus on security and finding a political solution to the crisis from now on, it didn't stop it from continuing airstrikes against Shiite Houthi rebels. Intensive bombings were reported on Wednesday near the southwestern city of Taiz.
Parents asked to hold young kids to get as many evacuees on board as possible. Next stop - US Mil base in Djibouti pic.twitter.com/a5jp7nFtpz

— Murad Gazdiev (@MuradoRT) April 22, 2015
With the threat of violence continuing to loom over Yemen, Russia sent two more planes to evacuate people. They carried some 197 refugees, including 13 citizens of Russia, 80 people from the former Soviet republics like Ukraine, Uzbekistan, Armenia and Kazakhstan and 104 people from countries including Cuba, Serbia, Columbia and Lebanon.
Also among them were about 20 American citizens, who became stranded in Yemen when the US government announced it had no plans to organize an evacuation.
"There are no plans for a US government-coordinated evacuation of US citizens at this time," US State Department said in a travel warning in early April, as the Saudi bombing campaign passed its first week.
"We encourage all US citizens to shelter in a secure location until they are able to depart safely. US citizens wishing to depart should do so via commercial transportation options when they become available."
Department spokesman Jeff Rathke explained that the people trapped in Yemeni violence were there because they had ignored US government's warnings.
"For more than 15 years the State Department has been advising US citizens to defer travel to Yemen. We have been advising those US citizens who are in Yemen to depart," he said.
.Left to their own devices, US citizens in Yemen sought the help of private organizations and foreign governments to flee the country. RT's Murad Gazdiev spoke with some of those who found their way out of the battle zone to the Russian evacuation planes. Some barely managed to reach the airport.
Plane 1 fully loaded. Russian, Ukrainian, Spanish, American citizens abroad - even the Cuban ambassador to #Yemen! pic.twitter.com/YU9PPQilNr

— Murad Gazdiev (@MuradoRT) April 22, 2015
"My cousin contacted us from the US. He got hold of the Russians and then contacted us. We only heard about it yesterday. We went from the village. It's a five-hour ride. We crossed that bridge. Twenty minutes later a missile hit the bridge we crossed," Mouhammed Nasser told RT.
Others spent a lot of time desperately trying to find a way out of Yemen.
"I couldn't make it out. I had to wait. It took me weeks to find a flight out of [the capital] Sanaa. I started calling airlines, agencies, the UN, the Russian embassy," said Ismail Alafash.
"Americans, they just kept sending us emails," he added. "They said basically: find your way out."
At #sanaa airport. One Russian plane has landed. Wrecked planes, signs of war everywhere. Waiting on evacuees. pic.twitter.com/l0t9tKqrYd

— Murad Gazdiev (@MuradoRT) April 22, 2015
.Some were leaving their loved ones behind in Yemen, hoping they would be able to bring them out somehow.
"I have to think about the next step, to make sure that my family is safe. This is a priority for me. I will try my best to get them out of Yemen. And if we could we'll start a new life somewhere else until settle down and we go back to Yemen," Houda Al-Hazzan told RT.
The planes' first stop was Djibouti, a tiny African country just across the Gulf of Aden from Yemen that also happens to host the biggest US military base in Africa. Some of the American passengers departed here, while others continued on to Russia along with the other evacuees.
The US public is oblivious to the fact that there are American citizens trapped in Yemen with no help from the government as the conflict itself is largely ignored by the media, political analyst Rabyaah al-Thaibani, who herself have family members stuck there, told RT.
"For a very long time the American media narrative has always been a security narrative when it comes to Yemen," she said. "Since the Saudi Arabia airstrikes there has been some coverage, but people don't know what the hell is actually happening."
Moscow so far dispatched a total of nine flights to evacuate people from Yemen, taking to safety a total of 1,200 citizens of 20 countries.
You can share this story on social media: