Not playing chicken: Minnesota declares bird flu state of emergency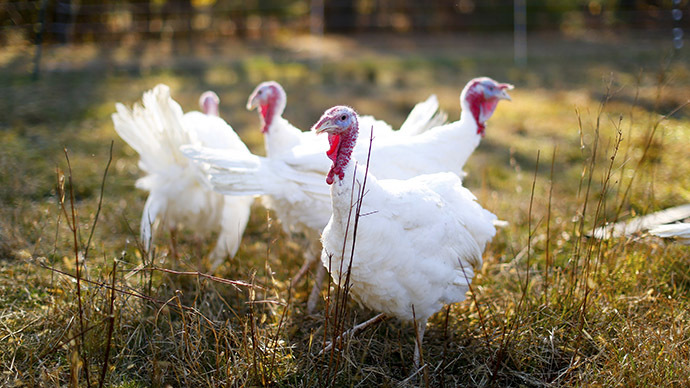 Minnesota is the second state to declare an emergency due to a fast-spreading bird flu epidemic at poultry farms across the Midwest. The highly contagious H5N2 strain of avian influenza has led to the killing of more than 7.3 million birds in the US.
In Minnesota, H5N2 has been found on 46 farms in 16 counties, affecting more than 2.6 million turkeys and chickens, Reuters reported. No human infections have been reported in this outbreak.
"There's no reason for anybody in the state of Minnesota to be concerned about their own health," Governor Mark Dayton (D) said at a press conference on Thursday after declaring the state of emergency.
Nevertheless, state health officials said they were expediting prescriptions for the antiviral drug Tamiflu for farm workers and others who have been in direct contact with infected flocks. That step follows recommendations from the US Centers for Disease Control and Prevention.
The 140 people in the state who have worked directly with sick birds have been monitored by the Minnesota Department of Health. None have tested positive for bird flu, the department's spokesman, Michael Schommerm, said.
Minnesota Declares Bird Flu Emergency, Offers Drug to Workers - http://t.co/h1RuHBtufchttp://t.co/ORzgJcOkvFpic.twitter.com/5RRtLp88PL

— Gestational Diabetes (@DiabetesHeals) April 23, 2015
Minnesota is the nation's largest turkey producer, and 45 commercial turkey farms and one "backyard flock" of poultry ‒ 151 birds ‒ have been struck by the bird flu thus far, according to the Minneapolis Star Tribune.
On Thursday the bird flu spread from turkeys to chickens, as a farmer in northwestern Minnesota said his egg-laying operation with 300,000 chickens had been infected.
"This is a moving target, and the number of farms affected has continued to increase," Dayton said. "We don't know what the ceiling will be."
If the problem is not addressed quickly, bird flu is capable of destroying an entire flock in less than 48 hours.
Two bird flu strains have been discovered in the United States this year. The H5N2 strain is in Arkansas, Idaho, Iowa, Kansas, Minnesota, Missouri, Montana, North Dakota, Oregon, South Dakota, Washington and Wisconsin. It has also been identified on farms in Ontario, Canada.
READ MORE: Chicken cull: 5.3mn hens to be slaughtered as huge bird flu outbreak reported in Iowa
The H5N8 strain has been identified in California and also in Idaho, according to US Department of Agriculture data.
Minnesota followed in Wisconsin's footsteps in declaring a state of emergency. Governor Scott Walker (R-Wisconsin) authorized the state's National Guard to assist authorities responding to the bird flu in three counties. It has been found in six Wisconsin flocks affecting over a million chickens and turkeys, WITI reported.
Wisconsin must act "quickly and efficiently to contain the outbreak and protect domestic poultry," Walker said when he declared the state of emergency.
In Iowa on Monday, more than 5.3 million hens were scheduled be euthanized at an egg-laying facility after the majority of them were found to be contaminated with the lethal H5N2 strain.
Iowa is home to more than 58 million egg-laying hens, according to the USDA. It produces one-fifth of all eggs consumed in the US.
Authorities have not pinpointed the source of the bird flu, which is believed to have spread from hen to hen via bird droppings. There is a theory it could have originated from wild birds traveling through the Mississippi flyway, a migratory path that stretches from the Mississippi River up to Canada's Mackenzie River.
You can share this story on social media: