Ray-Banned: Rand Paul pulls 'Rand-Ban' sunglasses from campaign store
Published time: 22 Apr, 2015 22:01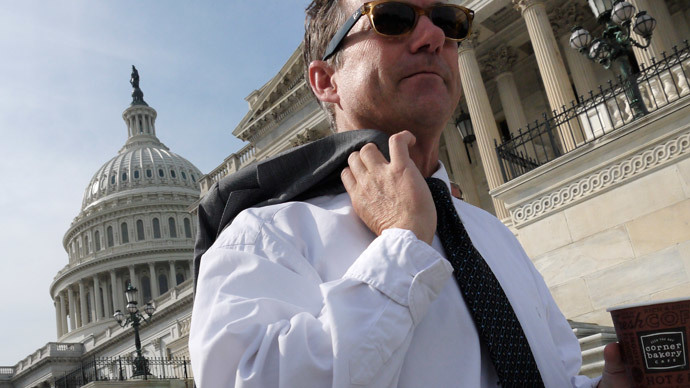 Republican presidential candidate Rand Paul didn't ask sunglasses company Ray-Ban before stamping his brand on their product. Now Ray-Ban has asked Paul to pull their Wayfarer glasses with his "Rand" logo from the campaign website.
The so-called "Rand-Ban" sunglasses were sold on Paul's site in a store filled with items designed to woo young supporters. That is, they were on sale until Tuesday, The Hill newspaper reported.
The Wayfarers ‒ that Ray-Ban sells for a starting price of $135 ‒ were listed at $150 and were described as "the intersection of politics and cool."
But Ray-Ban didn't think the Rand-Bans were so cool, especially because they never gave Paul or his campaign permission to use their product.
@RandPaul , @GrahamBlog RAYBAN MADE HIS ONLINE STORE PULL THE SUNGLASSES. ARTISTS DO NOT WORK FOR FREE. pic.twitter.com/qSQkjnhQwl

— Tom Feharty'sToons (@TFehartyToons) April 22, 2015
"We learned that the Rand Paul campaign had been selling Ray-Ban sunglasses imprinted with the 'Rand' logo without our consent," Jane Lehman, head of corporate communications for Luxottica, the parent company of Ray-Ban, wrote in an email to The Hill.
"After a formal request from us, they promptly removed the product from their site and agreed to cease any further use of our trademarks," she wrote.
Ray-Ban may not have been the only entity upset about the sunglasses marketing. Paul used the Wayfarers to compare himself to President John F. Kennedy ‒ a Democrat whose family is still heavily involved in politics and liberal causes.
A picture of Kennedy in the iconic sunglasses resided next to one of Paul in a similar pair.
"I can hear Senator Bentsen now, 'I knew Jack Kennedy and you're no Jack Kennedy'," a caption on the site said. "Well, you and I may not be Jack Kennedy, but Rand likes Raybans [sic] and now we can all own Rand branded Raybans."
"$150 is more than you might normally pay for sunglasses, but these are Raybans and even more, they are indelibly marked with the Rand Brand... and as always, it's a contribution to the Rand Paul for President campaign," the caption continued.
The Paul campaign store has caused a stir with its tongue-in-cheek marketing and novelty items. But it's not the first time a product has had to be updated.
On the afternoon the store was unveiled, which was also the day Paul announced his candidacy, a certain type of shoes was renamed "Rand Paul Sandals" from the politically charged "Rand Paul Flip Flops."
The Democratic National Committee parodied the store not long after it came online. The DNC created fake items to troll Paul's positions on hot-button issues.