Rand Paul declares presidential bid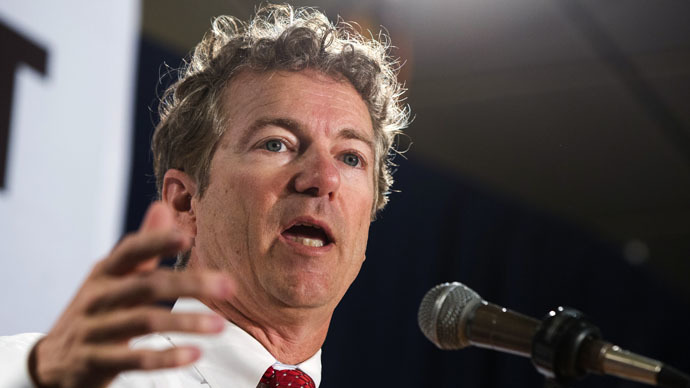 It's official: "Libertarian Conservative" Senator Rand Paul (R-Kentucky) says he'll be running for president of the United States in 2016.
Paul, 52, announced Tuesday morning that he'll indeed be pursuing the Republican Party's nomination for president ahead of next year's election.
READ MORE:10 things you need to know about Rand Paul
"I am running for president to return our country to the principles of liberty and limited government," Paul announced on his website.
Tuesday's announcement makes Paul the second big-name Republican to formalize their bid for the White House in recent weeks. Last month, Sen. Ted Cruz (R-Texas) said he'd also be pursuing the GOP's nod ahead of the 2016 race.
Today I announce my candidacy for President of the United States! Join with us at http://t.co/lpzLQCfz0Fpic.twitter.com/BmtOTXDLlR

— Dr. Rand Paul (@RandPaul) April 7, 2015
On Monday, Paul's office revealed that the senator will be running for office under the slogan, "Defeat the Washington machine — Unleash the American dream."
"We have come to take our country back," Sen. Paul told a crowd during a planned address in Louisville, Kentucky later on Tuesday when he formally announced his plans to run, promising to abolish "the Washington machine that gobbles up our freedoms and invades every nook and cranny of our lives."
http://t.co/ihlYYfxyERpic.twitter.com/ELN5xZptRS

— Dr. Rand Paul (@RandPaul) April 7, 2015
The conservative lawmaker and onetime ophthalmologist has advocated during his tenure in Congress for decreased military spending abroad and audits of the Federal Reserve and Internal Revenue Service — issues championed previously by his father, retired congressman Ron Paul, and all but certain to be central points of the senator's Oval Office campaign.
While Paul is the second leading Republican to announce his White House run, so far he's the only contender to say supporters can donate to his campaign via Bitcoin. In addition to credit card donations and contributions processed over PayPal, Paul's campaign website gives donors the options to pledge their support with the digital cryptocurrency.
As RT reported previously this week, Sen. Paul's campaign agenda will likely include calls for reform of the National Security Agency, US drug laws and the military's use of armed unmanned aerial vehicles, or drones: in 2013, Paul famously led a filibuster on the floor of the Senate to discuss America's drone program during the confirmation hearing for John Brennan, the Obama administration's pick for CIA director.
You can share this story on social media: