Sell at home, not to US, Treasury chief tells exporters
Published time: 18 Apr, 2015 01:26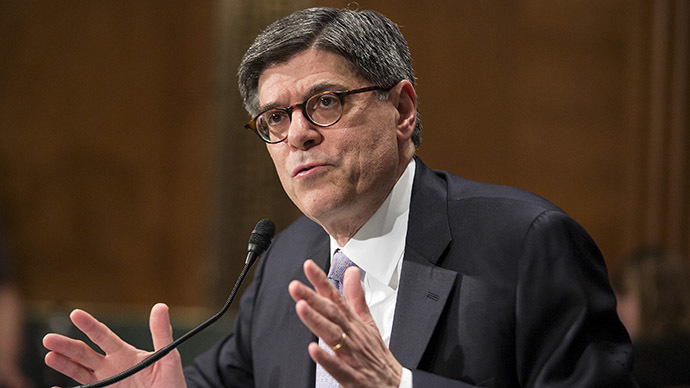 The world's leading exporters should boost domestic demand and inflation to stimulate growth, the US treasury secretary said, rather than look to US markets to absorb their products. He also called for flexible currency rates, especially in China.
Addressing the International Monetary and Financial Committee on Friday, Treasury Secretary Jack Lew expressed concern that the global economy was "reverting to the pre-crisis pattern of heavy reliance on US demand for growth."
Instead of stimulating demand at home and fighting deflationary pressures, "many advanced economies appear stuck in a pattern of low domestic demand growth and excessively low inflation," Lew said.
He called on countries with "record rising current account surpluses" to "move expeditiously to pursue domestic-demand boosting policies," specifically naming Korea, Germany, China, and Japan.
Lew to China—and Germany, Japan and Korea: Stop mooching off of our demand. http://t.co/9AUbWl0Q1z

— Tim Fernholz (@TimFernholz) April 17, 2015
While the US economy was performing well, with "a consensus of private forecasters" projecting 2.7 percent growth in real GDP this year, Lew said that did not mean American consumers could bail out overseas manufacturers. The way to boost global growth, he said, was to adopt a mix of macroeconomic policies to boost domestic demand, which would include free-floating currency exchange rates and boosting inflation.
Read More: Russia officially joins $50bn China-led infrastructure bank
Emerging markets, Lew said, would benefit from improvements in the business climate, in order to bring in foreign and domestic direct investments. "As we continue to underscore, increased exchange rate flexibility could increase resilience to external shocks," he added.
"China should allow the market to play a greater role in determining prices, particularly the exchange rate and interest rates," said the Treasury chief.
READ MORE: Keep IMF and World Bank instruments of US policy, Treasury chief urges Congress
Taking a dig at the newly established Asian Infrastructure Investment Bank (AIIB), Lew praised the International Monetary Fund as the "foremost international institution for promoting global economic stability." He could not get around the fact that Washington has been dragging its feet on approving the reform packet proposed in 2010.
"We continue to believe that Congress will soon pass legislation to implement the 2010 reforms," he said, adding that the US considered it "critical to US economic and national security."
Meanwhile, the US, Canada, Japan and the European Union "voiced concerns" at the World Trade Organization over Russia's policy of import substitution, a source told RIA Novosti. After the US and its NATO allies imposed trade sanctions against Russia last year, Moscow adopted a policy of favoring domestically produced goods for government purchases, including medical, industrial and agricultural equipment, textiles and vehicles.