Ohio jail bans underwear delivery to stop drug smuggling
Published time: 17 Apr, 2015 20:48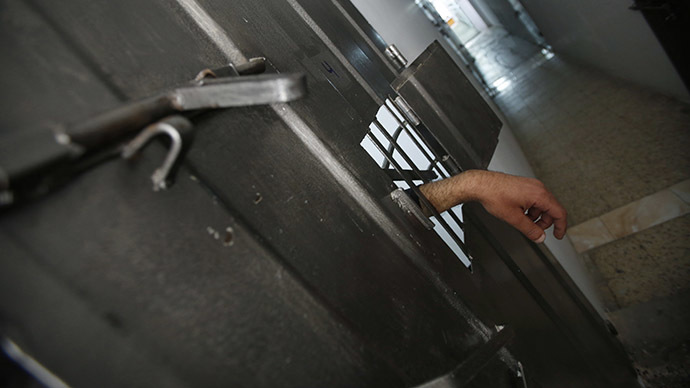 Citing a crackdown on contraband, a county jail in Columbus, Ohio is banning outside deliveries of underwear and socks. A contractor will be selling the items at the jail store, and inmates who can't afford to buy their "whites" will have to go without.
Underwear for inmates "is not a minimum jail standard in Ohio," Dave Masterson, director of administrative services at the Franklin County Jail, told the Columbus Dispatch.
Ohio Jail: Buy Our Underwear - or Else http://t.co/G4kHlCpnYjpic.twitter.com/4ucFw69fdo

— WTRF 7News (@WTRF7News) April 16, 2015
The jail website still lists "white-only" plain underwear, socks, crew-neck T-shirts and bras (no wires), as approved items for delivery to inmates "in original unopened packages." According to Chief Deputy Geoff Stobart, however, the jail administrators routinely find prohibited substances inside undergarment deliveries.
Stobart described how friends, family or associates of inmates would insert contraband into the garments' seams, sew them up, and heat-seal the plastic packaging. "They get quite creative," he said, adding that the most recent trend was smuggling in strips of Suboxone, a drug used to treat heroin addicts.
READ MORE: US jail system stacked against poor, ill nonviolent offenders – report
To stop the smuggling, the county has banned outside deliveries, and contracted Acme Supply Co. of New York to sell underwear at the jail commissary. The one-year contract in the amount of $94,525 will have Acme providing the county with 34,000 T-shirts, 1,500 wireless bras, 700 sports bras, 20,000 total men's boxers and briefs, 6,000 women's briefs and 46,500 pairs of socks, reports the Columbus Dispatch.
Acme's price to the county ranges from $.89 for a pair of men's briefs to $2 for a sports bra. Masterson said the county would be selling the items for a profit, but has yet to decide how much to charge the inmates. "We're the only game in town for these guys, so we're not going to gouge them," he said.
If retail pricing on Acme's website is anything to go by, T-shirts go for $1.50 each and bras may cost as much as $4.25.
Ohio Jail: Buy Underwear or Go Commando http://t.co/uvKgHg9GmF

— Officer.com (@OfficerCom) April 15, 2015
Stobart pointed out that the jail would launder the inmates' intimates free of charge, which he said was not something all jails normally did. No decision has been made on whether the jail would provide underwear in the hygiene packets given to prisoners who can't afford to buy their own.