​More copy panic? Bill to require copyright warnings near 3D printers
Published time: 16 Apr, 2015 18:46
Edited time: 16 Apr, 2015 20:45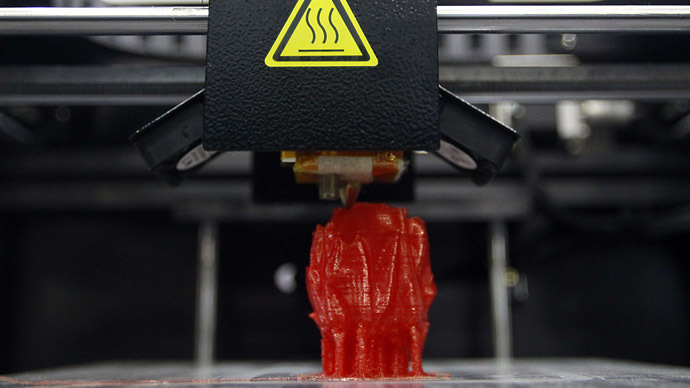 As 3D printing technology spreads, so do fears of potential abuse. A bill that would put copyright infringement warnings near printers in public libraries is being considered in California, and critics fear hasty legislation may stifle the industry.
Lawmakers behind the bill AB-37 say passage of the proposal would mandate that all state libraries "post a notice on or near the 3D printer that would alert users of the 3D printer of the potential liability of the user for misuse of the 3D printer." It was unanimously re-referred to committee this week.
While the costs of 3D printers were astronomical a few years ago, the technology is increasingly becoming common in public libraries—often thanks to generous grants and donations. The Sunnyvale Public Library near the San Francisco Bay received a $13,500 Library Services and Technology grant through the California State Library in 2014 to purchase a high-tech printer, and the Mountain View Public Library received a similar award a year earlier. The Young Adult Library Services Association announced in February that it would be helping outfit 100 facilities across the United States with printers, including the Santa Cruz Public Libraries system, and equipment is available to the public for free in San Diego, Sacramento and other Golden State libraries up and down the west coast.
Although the bill was originally drafted in January, it managed to mostly avoid making its way to the ears of the media until Tuesday this week when Parker Higgins, an activist with the Electronic Frontier Foundation and self-described "copyright hipster," drew attention on the matter on Twitter.
According to Higgins, the latest effort amounts to "more copy panic."
"People love those mandatory DVD piracy warnings. Let's make more of those that make even less sense!" Higgins joked.
New CA bill would require libraries to post DOJ-written copyright warnings next to 3D printers. More copy-panic: https://t.co/apKu5JbfyN

— Parker Higgins (@xor) April 14, 2015
If AB-37 succeeds, each library would be required to post a notice that would "provide citations to the applicable state and federal laws that may impose civil liability or criminal penalties for misuse of a 3D printer, including laws regarding copyright infringement and trademark and patent protection," according to the bill's current language, and "alert users of the 3D printer that it is the responsibility of the user to be aware of and abide by the laws that may apply to the use of a 3D printer."
"First of all, this shows the ridiculous ownership mentality of some, who automatically assume that creating something new must be infringing on someone's rights somewhere," opined tech blogger Mike Masnick, who followed Higgins' lead for an article he published on Wednesday this week. "Second, the idea that government mandated signs are somehow going to alleviate such uses is ridiculous. Beyond the fact that government 'warnings'about infringement are routinely mocked (or just widely ignored), this has all the markings of the old red flag laws, in which the government mandated that there needed to be someone waving a red flag walking in front of every automobile."
Because 3D printer technology allows users to emulate physical products by reproducing them using space age polymers and computer engineering, copyright concerns have indeed been raises in recent years as fears mount with regards to the possible intellectual property repercussions.
Earlier this week, reports commissioned by the UK Intellectual Property Office were released, in turn providing an expert assessment for the British government on how 3D printers will specifically impact IP law.
"Although it is too early to tell when this will happen, our research concluded that there would really need to be evidence that 3D printing is an everyday reality before legislation is needed. Otherwise there is the danger that over-hasty legislation could stifle creativity and innovation," Dinusha Mendis, a co-director at the Centre for Intellectual Property Policy and Management at Bournemouth University, said of the findings, according to Phys.org.
"It was a privilege to be able to look at this area on behalf of the government. Technologies such as 3D printing pose challenges for IP laws; however it is important to understand the extent and the impact of such challenges before looking to next-steps," Mendis said. "Hopefully our research has helped navigate the murky waters of intellectual property to ensure that businesses and individuals are protected in the field of 3D printing."