House panel urges US to fight Russia's 'weaponized information'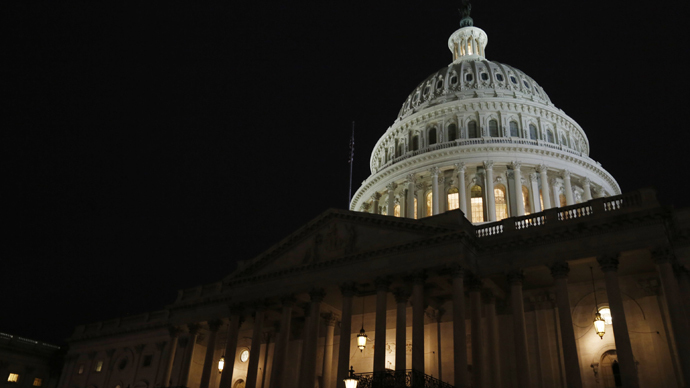 The House Foreign Affairs Committee blasted "Russia's weaponization of information" on Wednesday, urging the US government to invest more in media warfare around the world.
Committee chairman Ed Royce (R-Ca) set the tone for the discussion at Wednesday's hearing by asserting that "Russia's propaganda machine is in overdrive, working to subvert democratic stability and foment violence in Eastern Europe," while the US broadcasting was in "disarray."
Royce's choice of witnesses for the committee consisted of Russia critics Peter Pomerantsev, Helle Dale, and ex-RT journalist Liz Wahl. This drew criticism from Rep. Dana Rohrabacher (R-CA) who said he wished that "we had at least one other person to balance out this in a way that perhaps could've compared our system to the Russian system, to find out where that truth is, just how bad that is."
"Russia is engaged in a major effort to, basically, support its own policies and promote changes and effects on other populations that further the interests of Russia. I would be surprised if that wasn't the case," Rohrabacher said. Noting he used to be a journalist himself, Rohrabacher cautioned against a return to the Cold War mentality. "We don't need another Cold War. We don't need to take that belligerent stance," he said.
Peter Pomerantsev, of the London-based Legatum Institute, disagreed. "Russia has launched an information war against the West – and we are losing," he told the committee.
Helle Dale, of the Heritage Foundation, called the content and commentary from RT and others "polished and slickly produced," so that "unsophisticated audiences are eating it up." Dale also falsely claimed that RT had a budget of "$400 million for its Washington bureau" alone. At the current exchange rate the budget for all of RT's operations is $275 million.
Read More: Info war-mongers: Usual suspects in cash call to fight 'anti-US messaging'
Last week, the director of Voice of America (VOA) resigned, following the resignation of Andrew Lack, CEO of the Broadcasting Board of Governors (BBG) after just six weeks on the job. Lack had infamously equated RT with the Islamic State and Boko Haram, continuing the series of attacks on RT and Russia by senior US officials.
READ MORE: For propaganda & 'democracy promotion': State Dept seeks budget to counter RT
This is not the first time the US government has invoked inflated figures of RT's funding to plead for more funds for the BBG. Then-Secretary of State Hillary Clinton famously said the US was losing the "information war" to RT and other media. Her successor John Kerry called RT a "propaganda bullhorn" and asked for hundreds of millions of dollars to "promote democracy" in Eastern Europe.
Assistant Secretary of State Victoria Nuland, on the other hand, dismissed RT as having a "tiny, tiny audience" and representing no threat to a US media space "full of dynamic truthful opinion."
Renowned linguist and public intellectual Noam Chomsky explained the reasoning behind this seemingly contradictory approach. "The idea that there should be a network reaching people, which does not repeat the US propaganda system, is intolerable" to the US establishment, Chomsky told RT.
"If the House wants to study the weaponization of the media, they can look right at the front pages of the newspapers that they get every day," the MIT professor-emeritus said."If we look closely at the conflict [in Ukraine], you can find plenty of problems on both sides, but the way they're interpreted here, is we're necessarily right about everything. And if anyone's in the way, they're wrong about everything."
You can share this story on social media: