Hillary Clinton declares international information war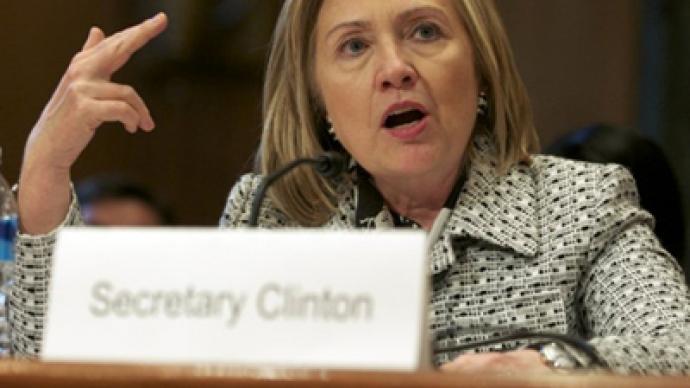 The US is losing the global information war, Secretary of State Hillary Clinton declared while appearing before a congressional committee to ask for extra funds to spread US propaganda through new media.
Clinton said existing private channels are not good enough to handle the job, naming as rivals Al Jazeera, China's CCTV and RT – which she watches, she added.Clinton was defending her department's budget in front of the House's Committee on Foreign Affairs on Wednesday.Clinton said the US should step up its propaganda effort and get back "in the game" of doing "what we do best.""During the Cold War we did a great job in getting America's message out. After the Berlin Wall fell we said, 'Okay, fine, enough of that, we are done,' and unfortunately we are paying a big price for it," she said. "Our private media cannot fill that gap.""We are in an information war and we are losing that war. Al Jazeera is winning, the Chinese have opened a global multi-language television network, the Russians have opened up an English-language network. I've seen it in a few countries, and it is quite instructive," she stated.Things have changed a lot since the days when Western media outlets, including BBC and CNN, had a monopoly on the coverage of world news. More and more viewers across the world tune into various foreign media to get a fresh take on events.It is all in the numbers. For instance, RT's presence on YouTube is a real hit: almost 300 million views, when CNN International is struggling to reach 3 million.RT's constantly growing audience is an indication that the days of media monopoly are over and that people are demanding more multi-polar thinking.One of the latest examples is Al Jazeera's coverage of the unrest in the Middle East and North Africa, which by most accounts outshone the US media's presentation of events.Not everyone, however, is happy with the wider variety of media options. The head of the federal agency that manages the US's government-run international broadcasting has basically called all those foreign media enemies.Last year Walter Isaacson, who heads the federal agency that manages the US's government-run international broadcasting, including the Voice of America, warned against the influence of foreign media."We can't allow ourselves to be out-communicated by our enemies," he said, in a now-infamous pitch to get his agency more funding. He did, however, later backtrack on his statement, saying that he was misunderstood.
Journalist and filmmaker Danny Schechter says the US can no longer maintain a monopoly on information. "The United States feels defensive in part because it can no longer monopolize not only the terms of authority in these countries, but also the terms of the debate," he said. "There is other information out there. There are other points of view and those points of view are profoundly damaging to a country that believes that its point of view is the only point of view."
Shawn Powers, from the Center for International Media Education, agrees that the US is fighting an information war, but says that Hillary Clinton is overplaying the "losing" aspect of the US information campaign for political reasons. "She is trying to defend the extravagant State Department budget, which I agree with, but I think she is doing that in the face of tremendous political pressure to cut funding for things like broadcasting that seem to be repetitive with private news enterprises," he said. "What we saw yesterday was her making some strong arguments on why we still need to invest in international media, and broadcasting in particular."
Journalism professor Christopher Chambers believes that the likes of stations like RT are a threat to Washington primarily because of the corporatization of media in the US."Basically you have news and entertainment in the United States that has merged and is serving one of maybe three or four giant corporations, and all they are concerned about is not gathering news, not reporting news, but commentary on the news – punditry, if you will – and the entertainment slant on the news," he said."The more sensationalistic they can be, the more they can deliver a demographic to their sponsors, that is all they care about," he added. "They don't care about getting the facts, they don't care about having people on the ground to get the real story. So you have a lot of inaccurate reporting, you have a lot of incomplete reporting, but it serves the corporate purpose because all they are really geared up for is making money."
You can share this story on social media: