Carrier bridge idea floated by lawmaker unlikely to take off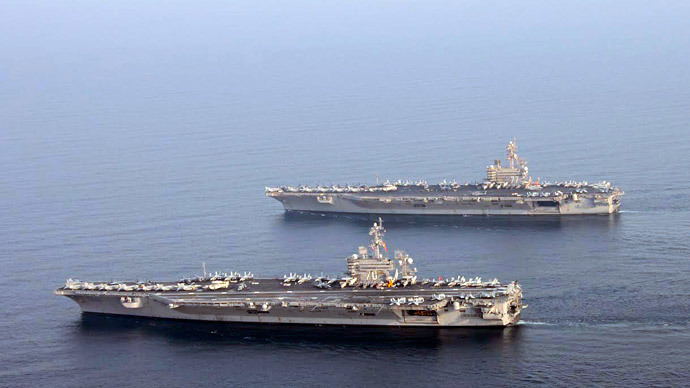 The US government has allocated funds to study the possibility of using old aircraft carriers to build a bridge across the Puget Sound in Washington state. Engineers have criticized the idea as impractical, while the US Navy is not amused.
Some $90,000 in federal funds has been allocated for a study pitched by Republican lawmaker Jesse Young, which suggests using decommissioned Navy flat-tops for a floating bridge across the Sinclair Inlet to connect the communities of Bremerton and Port Orchard. Three carriers laid bow-to-stern could span the inlet, but Young says two would be just as good if they are connected by a concrete span in the middle.
"I know that people from around the world would come to drive across the deck of an aircraft carrier bridge," Young told NPR, adding, "it's the right thing to do from my standpoint, because this is giving a testimony and a legacy memorial to our greatest generation."
Would you drive across a bridge made of retired aircraft carriers? It's been proposed. http://t.co/tUOkDP65papic.twitter.com/FPYntvVOd9

— Huntington Ingalls (@HIIndustries) April 10, 2015
Young bandied about the idea of using two carriers decommissioned in 1998. The USS Independence is scheduled to be scrapped later this year, while the USS Kitty Hawk is being held in reserve until the new super-carrier USS Gerald R. Ford enters service, sometime between 2016 and 2019.
The US Navy is not interested in surrendering either ship, said spokesman Chris Johnson from the Naval Sea Systems Command in Washington, DC. Additionally, Navy policy says that decommissioned capital ships can either be scrapped or turned into museums, leaving no option to use them for construction.
That does not seem to discourage Young. "That is the beautiful thing about opportunities… no one ever says they'll be easy, just that the greater the difficulty the greater the accomplishment," he wrote in a follow-up email.
A bridge made out of aircraft carrier: massively cool, but massively difficult. http://t.co/87d6DgnozC

— Sci Curious (@scicurious) April 13, 2015
The deadline to submit the federally funded feasibility study is December 2015, and the idea then faces a state budget battle. While interesting and doable, the idea isn't very practical, several engineers told Wired magazine.
"It's got bad news written all over it," said Arthur Faherty, a Seattle-based marine engineer. Anchoring the ships properly would be doable but expensive, he added, and having to regularly dry-dock the hulls would take the bridge out of service.
"The structural issues are all resolvable," Dr. Anil Kumar Agrawal, a professor of civil engineering at City College of the City University of New York, told the magazine, but there are still environmental issues and inconveniences to local shipping.
Say what you will about the aircraft carrier bridge idea, but it got Rep. Young WaPo ink. http://t.co/HizqWuEWPS

— Derek Young (@DerekMYoung) April 13, 2015
With social media comments ranging from "great idea" to "idiotic," Young's proposal has certainly made waves.