Smartphones could be used as earthquake early-warning systems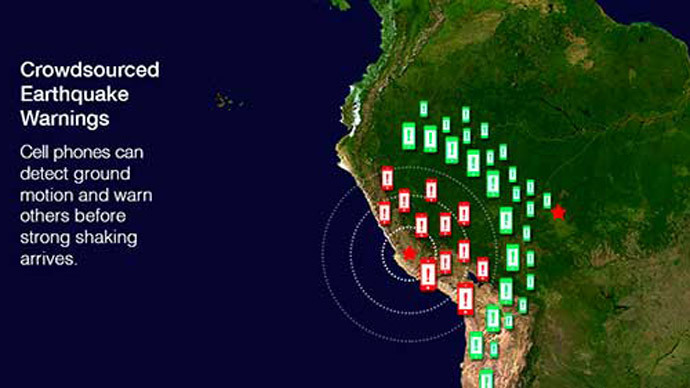 Smartphone sensors could be used in the future to give officials a five-second warning if a major earthquake is set to strike. It may not seem much, but it would allow enough time to sound alarms and shut off gas lines, potentially saving numerous lives.
The research was conducted by the US Geological survey and if it is crowdsourced, they could bring the technology to fruition.
Finely tuned scientific instruments such as the seismograph are used to predict big earthquakes in countries like Mexico and Japan. But researchers at the US Geological Survey (USGS), NASA and Carnegie Mellon University were curious about how data and sensors used in GPS or fitness trackers on smartphones could help in developing an early warning system for earthquakes.
USGS' Benjamin Brooks told New Scientist that GPS sensors can identity where you are standing, but they also log a sudden lurch in one direction. He thinks that this information could indicate a seismic shift and could be helpful in predicting the precious moments leading up to potential disaster.
READ MORE: 6.0 magnitude earthquake hits near Peru-Chile border
"Imagine all of Portland was out at a cafe on a sunny day, and everyone's smartphones were sitting on the table when one these great earthquakes happened," Brooks told New Scientist. "The whole city would appear to move."
Brooks and his team have been testing out the hypothesis of crowdsourced GPS data. One simulation explored a model magnitude 7.0 earthquake along the Hayward fault, which runs along the east side of the San Francisco Bay, and another used location data recorded during Japan's 2011 earthquake.
Both showed that data from 5,000 people would be enough to trigger a response that a major earthquake was about to take place.
Researchers at the California Institute of Technology in Pasadena tried creating an app two years, Crowdshake, to map seismology, but ran up against problems regarding how phone manufacturers incorporate GPS sensor data in smartphones and what they make available.
READ MORE: Oil & gas execs 'pressured' Oklahoma geologists not to reveal fracking-quakes link
"Currently phone manufacturers filter the GPS positioning data to reduce noise in order to provide the best locations for typical user applications such as navigation while driving. This filtering masks out the motion that would occur during earthquakes," Dr. Jessica Murray, research geophysicist at USGS, told RT.
"For crowd-sourced position data from smartphones to be usable for earthquake early warning (EEW), phone manufacturers would need to make raw sensor data available to phone owners," she said.
Murray added that if this was to happen then an app could monitor "for anomalous motion recorded by the phones' GPS" and subsequently use this information for an early warning system. The app could receive alerts and provide users with emergency information.
The USGS team is planning a pilot program using 250 phones, all stripped of their standard GPS cards and placed in boxes around Chile, to collect seismic data on when the next earthquake might strike.
You can share this story on social media: