Oil & gas execs 'pressured' Oklahoma geologists not to reveal fracking-quakes link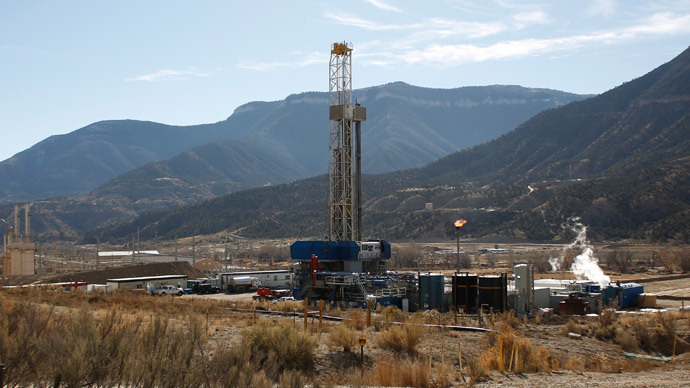 Newly-obtained emails reveal that Oklahoma geologists were pressured by oil industry big-shots not to push on with their assessments of possible links between earthquakes in the state and hydraulic fracturing industry, most often referred to as fracking.
More than a year since a sharp spike in earthquakes in the region, which coincided with fracking for oil and gas, the Oklahoma Geological Survey say there might be a possible link. The rise resulted in magnitude 3 earthquakes almost twice daily on average – three times as many as in disaster-prone California.
But after the body issued a joint statement with the USGS in October 2013, saying that "activities such as wastewater disposal" could be a "contributing factor to the increase in earthquakes," oil execs started to panic, according to newly-obtained emails by EnergyWire.
READ MORE: US geological agency calls for data sharing on fracking-induced tremors
This allegedly led to the OGS avoiding mentioning that the lion's share of earthquakes in the region was man-made. The silence has lasted since 2010 and was apparently due to pressure not to disclose the findings.
OGS geologist at the University of Oklahoma, Austin Holland, was one of the scientists aware of the link, but earlier did not wish to discuss it for lack of direct scientific proof.
It now turns out he was later being influenced by oil executives with a vested interest in the continuation of fracking in the area, according to the obtained emails.
"Researchers in Oklahoma, notably Austin Holland… have repeatedly said the increase in seismic activity cannot be fully explained by man-made causes," Oklahoma Independent Petroleum Association (OIPA) President Mike Terry said in a 2013 statement, pointing to Holland's earlier scientific skepticism.
That statement coincided with Holland's research, which found disturbing data from the southern town of Marietta, but stopped short of wholeheartedly acknowledging the fracking and earthquake link.
But when the OGS cautiously joined the USGS assessment in admitting that there was a relationship between fracking and growing seismic risks, Austin Holland was called into meetings with his boss at the university, President David Boren, and the Oklahoma Corporation Commission (OCC). He spoke with Jack Stark of the OCC, then also vice president of exploration at Continental Resources.
The OCC is the main regulatory body for oil and gas in the state.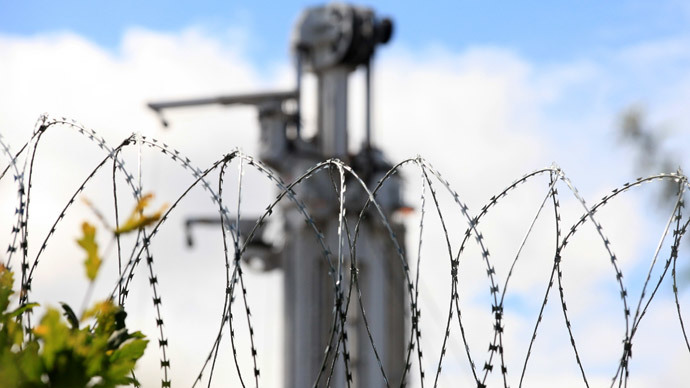 Continental Resources Chairman Harold Hamm – the University of Oklahoma's leading financial donor – started getting really interested in the findings around that time. Hamm, who was Mitt Romney's energy adviser, is not a believer in the relationship between seismic activity and the oil and gas industry.
The joint statement by OGS/USGS aroused fear in the oil execs, as Holland recounted in one of the emails from 2013.
He was trying to explain to Continental and the OCC that his input only benefited the USGS assessment, but that "Continental does not feel induced seismicity is an issue and they are nervous about any dialog about the subject," as he wrote to his superiors at the university.
"They are in the denial phase that this is a possibility," he wrote of the execs.
READ MORE: 'Strong correlation' between quakes and fracking in Kansas – official
One of the people also dissatisfied with the Oklahoma geologists partnering up with the USGS was Patrice Doubles, the OCC commissioner. At the time, she was running for Congress and got more campaign funds from Continental than almost any other senator. That included money from Hamm.
As Holland explained in the email, Douglas said that she wished to "of course, protect the safety of Oklahomans, but also balance that with industry in the state."
Earlier this year, in the Washington Post, Holland did admit that higher-ups were trying to influence his work – specifically, Hamm. In fact, according to a piece by fellow geologist Bob Jackman, Holland told him at the time: "you don't understand – Harold Hamm and others will not allow me to say certain things."
Holland later tried to downplay Jackman's quote to EnergyWire, but Jackman later said he had written down Holland's confession word for word immediately after the conversation.
A few other geologists have spoken out about the relationship between Hunton dewatering operations and a rise in earthquakes in the vicinity of Oklahoma City. They have also been warning that a surge in smaller quakes could increase the likelihood of greater ones.
Unlike other states where fracking is also commonplace, Oklahoma did little in the way of caps or regulations or shutdowns. Instead, reports emerged that state authorities limited such powers to information-gathering missions.
According to EnergeyWire, the view on Oklahoma having fracking-related earthquakes is shared by many academic and federal seismologists.
These new revelations come on the heels of fresh data from Oklahoma that has the US Geological Survey pointing to a clear scientific link between quakes and fracking.
You can share this story on social media: