Sanaa-tized? Rights groups sue State Dept for refusing to evacuate 1,000s of Americans from Yemen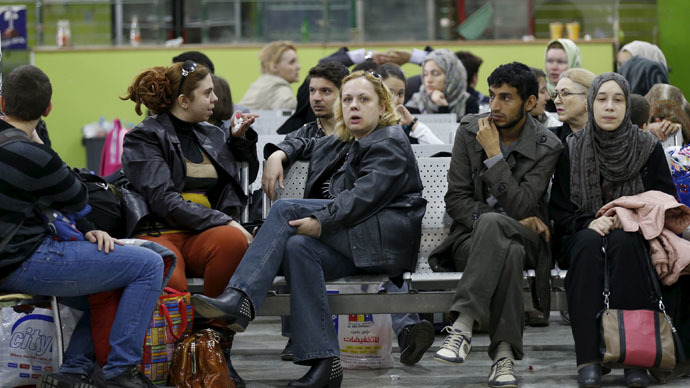 The US government has been sued over abandoning its citizens in Yemen, where up to 4,000 Americans are feared stranded. Pentagon officials claim an evacuation would be too dangerous for military personnel to carry out.
After the US Embassy in Yemen was evacuated along with all military personnel, there were no US forces left in the country to help American citizens who got stuck amid the worsening armed conflict.
Three Arab and Muslim human rights groups united in preparing a lawsuit bringing dozens of cases of American citizens denied evacuation from Yemen to the attention of the Obama administration. Some of the families stranded in Yemen have small children, maintains a lawsuit filed on Thursday, McClatchy DC reports.
ADC Legal Director @aayoub explains lawsuit ADC & @CAIRNational filed today to assist U.S. Citizens #StuckInYemenpic.twitter.com/DSdXxDkz7d

— ADC National (@adctweets) April 9, 2015
"The American-Arab Anti-Discrimination Committee (ADC), the Council on American-Islamic Relations (CAIR) and Asian Americans Advancing Justice-Asian Law Caucus (ALC) today announced the filing of a lawsuit against Secretary of State John Kerry and Secretary of Defense Ashton Carter seeking government action to evacuate American citizens trapped in Yemen," CAIR said in a statement Thursday.
The lawsuit personally targets US Secretary of State John Kerry and Secretary of Defense Ashton Carter for failing to protect US citizens in Yemen. The document names 41 plaintiffs in the case, while the total number of US citizens in Yemen is estimated at between 3,000 and 4,000.
Over 500 American citizens have registered on the website www.stuckinyemen.com so far. According to the human rights organizations, most of the American citizens remaining in Yemen are of Yemeni origin.
"Currently there are hundreds of families stuck actually in Yemen that are US citizens. They are asking me on a daily basis if there's any concrete evacuation," Summer Nasser, an activist and freelance author, told RT by phone from the Yemeni town of Yafa.
"If there's a chance and there's no concrete evacuation from the State Department directly, they should just use other countries and airlines that may evacuate citizens," Nasser said.
Is U.S. Abandoning Americans in #Yemen? U.S. Citizen Recounts Harrowing Trip to Escape Saudi Attacks http://t.co/nySfY9IT0F

— Democracy Now! (@democracynow) April 10, 2015
The State Department suggests that Americans should arrange their departure with the US Embassy in Djibouti, a small state situated on the Horn of Africa, 250 kilometers across the sea from the nearest Yemeni port, Aden. But according to McClatchy DC, at least two American citizens, a Californian woman and a mother of four from New York, made contact with diplomats in Djibouti only to learn that there would be no help.
A 21-year-old Brooklyn man, Sallah Elhushayshi, told McClatchy DC: "All day the question I ask myself is: Why is the United States not helping us?" Elhushayshi went to Yemen last year to get married and visit his family.
"Did you hear that? It's a war now," he said as gunfire crackled in the background when he was calling from the city of Taiz.
"People are fighting, guns everywhere," he said. "We feel afraid. We have nothing. We're worried about food and water every day. We feel hopeless, really."
The International Federation of the Red Cross reported Thursday that according to Yemeni health officials, up to 1,042 people have died in the fighting so far, including at least one American citizen who came to Yemen to evacuate his family.
"As American Yemenis, we're all really sad about what's going on," said Mohammed Alazzani, 27, a cousin of American citizen Jamal al Labani, a gas station owner from Oakland, California, who was killed in an airstrike in Yemen. "They just don't believe it, that their government isn't doing anything. Some of them are starting to say, 'They don't consider us real Americans. We're second-class.'"
"The situation in Yemen is dangerous and unpredictable," the US official said. "Sending in military assets, even for an evacuation operation, could put U.S. citizen lives at greater risk," the official said, stressing that there are no current plans to evacuate "private citizens."
In the meantime US aircraft tankers continue refueling Saudi bombers that inflict airstrikes on positions of Houthi rebels.
"You can expect we will do so every day from now on," Pentagon spokesman Army Col. Steve Warren told McClatchy.
Yemeni Americans protests #SaudiAirStrikes in #Yemen. (Dearborn, Michigan | April 5, 2015). pic.twitter.com/IR0vHz6puh

— Khaled Bey (@KhaledBeydoun) April 6, 2015
All this happens as other countries are actively evacuating their citizens out of Yemen.
READ MORE: Escape from Yemen: Refugees tell RT 'the whole city was shaking'
At least eight countries, including China, India and Pakistan, have sent planes and ships to evacuate their citizens from the conflict-stricken country.
READ MORE: Russian citizens evacuated from Yemen
Chinese soldiers even had to disembark to the port of Aden to ensure security of the evacuees after an unknown party opened fire on a vessel evacuating foreign citizens, a Yemeni official told Sputnik.
READ MORE: Chinese military disembark in port of Aden, Yemen, to guard evacuation – official
"We're not asking for anything out of the ordinary. We're just asking them to fulfill their duties," said Abed Ayoub, legal and policy director of the American-Arab Anti-Discrimination Committee, one of the advocacy groups behind the lawsuit to the US government.
India evacuates 232 foreigners including Americans, Europeans from Yemen http://t.co/qIhi0uyKbk

— Times of India (@timesofindia) April 7, 2015
"India took out over 4,000 of their nationals in three days. If India can do it, why can't the US?"
Aircraft from Moscow, evacuating Russians from the international airport of the Yemeni capital, Sanaa, so far have made five flights. They also evacuated citizens of several other states, among them Belarusians, Poles, Ukrainians, Kyrgyz and Uzbeks.
READ MORE: 'All our fears are behind us:' 300 Yemen evacuees land near Moscow
You can share this story on social media: