Russian citizens evacuated from Yemen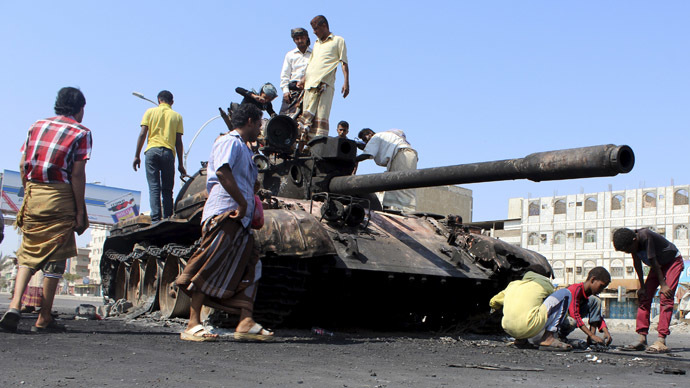 Some 300 Russian citizens aboard two separate planes have been evacuated from war-torn Yemen. The Russia-bound planes landed in Cairo to refuel, a source told RIA news agency.
"The plane left Yemen with the evacuees and is set to land in Cairo at 6:30pm,"the unnamed source said.
Saudi and Yemeni authorities had said they would allow two Russian aircrafts in Yemen to evacuate the Russians including diplomatic staff and civilians from the capital, Sanaa.
"As a result of intense diplomatic efforts the military and diplomatic authorities of the Kingdom [of Saudi Arabia] have assured us that Russian flights to Yemen will not have any difficulties in fulfilling humanitarian tasks. We hope Saudi Arabia will live up to its commitments," a statement from the Russian Foreign Ministry said.
Two planes have landed in Sanaa, and are ready to leave with the Russian nationals, Russia's official Foreign Ministry representative Aleksandr Lukashevich said at a briefing.
The ministry says some 150 Russian citizens were supposed to have been evacuated from Yemen on Wednesday, but despite permission and guarantees from Saudi Arabia, its air force prevented a Russian plane from entering Yemeni airspace on April 1.
Prior to landing in Sanaa, the plane was diverted to Cairo leaving scores of Russian expats awaiting evacuation to languish at the airport.
READ MORE: Russian evacuation plane denied landing in Yemen, diverts to Cairo
Two days ago, some embassy workers and 20 Russian citizens living in Yemen were taken from the port of Aden to Djibouti on a Russian Navy ship, including 10 children.

Apart from the Russian nationals, the ship took other foreign citizens who also wished to leave, including Belarusian, Ukrainian, Uzbek, Egyptian, Jordanian and Libyan citizens.

On Wednesday, the Russian Consulate General in Aden was severely damaged amid Saudi-led coalition airstrikes against Houthis. Its activity was ground to a halt.
"Fierce battles are raging on in the city. According to media reports, our consulate, just like other abandoned buildings, was looted," the Russian Foreign Ministry said.
READ MORE: Chinese military disembark in port of Aden, Yemen, to guard evacuation – official
Reports in Yemeni media cited eyewitnesses claiming that Houthi rebels allegedly seized documents and office equipment at the consulate, and their location remains unknown.
Last week, five Gulf states and Egypt started a series of airstrikes against the Shia Houthi rebels, who had seized the capital and large territories in the west of the country.
Jordan, Sudan, Morocco and Pakistan expressed their willingness to join in the military operation.
Saudi Arabia took full control of the Yemen's air and sea ports, allegedly to prevent arms coming in from abroad.
You can share this story on social media: