​Russian evacuation plane denied landing in Yemen, diverts to Cairo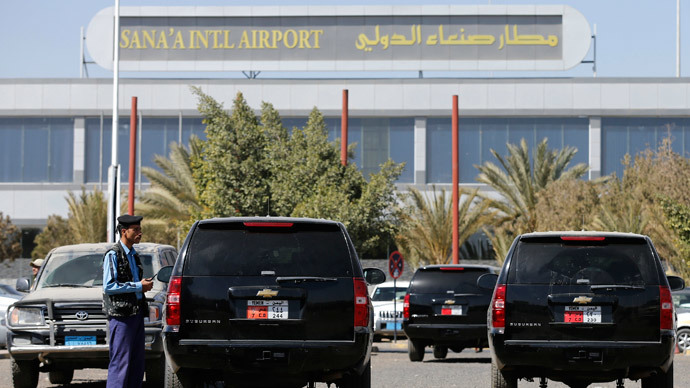 A state-chartered Russian plane destined for the Yemeni capital Sanaa had been diverted to Cairo, after the Saudi-led coalition reportedly refused it landing permission, leaving scores of Russian expats awaiting evacuation to languish at the airport.
"The crew made contact with coalition forces while flying over the Red Sea," Khaled Shayef, the director of Sanaa airport, told the Lebanon-based Mayadeen channel. "The coalition refused to allow the landing in Sanaa and the plane had to fly to Cairo."
Shayef said that Russian citizens – mostly oil industry employees and their families – had gathered in the airport in anticipation of the flight.
Mayadeen, which broadcasts all over the Arab world, claimed that the refusal was in contravention of earlier promises made by the coalition to Moscow, though Russian diplomats in Cairo stopped short of blaming Saudi Arabia.
"We can confirm that there is a Russian plane at Cairo airport, which is awaiting the opportunity to continue the evacuation Russian citizens from Yemen," said a statement from the diplomats delivered to TASS news agency. "But a lot will depend on co-operation of other countries, including Saudi Arabia."
READ MORE: Saudi Arabia prepares for possible ground offensive in Yemen, Iran calls for 'dialogue'
The UK, the United Nations, and a host of other countries have already evacuated their citizens from the country. Previously, Russia's diplomatic mission assured Russian media that no evacuation was imminent, and that "Sanaa is relatively quiet."
Last week, five Gulf states, Egypt, Pakistan, Morocco and several other Sunni Muslim countries launched a series of airstrikes against the Shia Houthi rebels, who had gained control of the capital and large swathes of territory in the west of the country.
Neighboring Saudi Arabia, has taken full control of the country's air and sea ports, purportedly to prevent the inflow of weapons from abroad. Riyadh has openly accused its regional arch-rival Iran of funding the rebels, and fomenting unrest in the country of 25 million people.
You can share this story on social media: