2 Detroit police officers accused of robbing drug dealers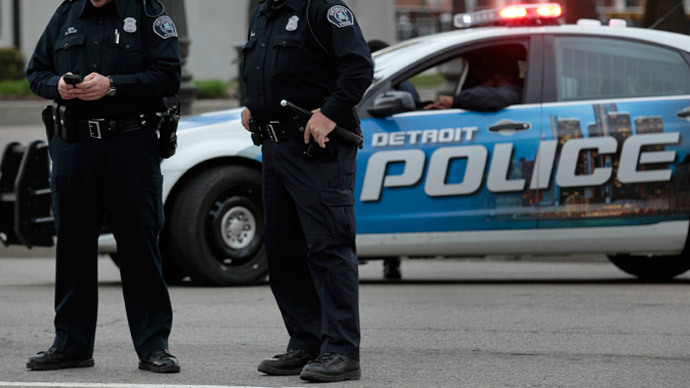 Two veteran Detroit police officers have been charged with multiple counts of robbing drug dealers of money and drugs during police searches over a four-year spree.
While serving in the Detroit Police Department's Narcotics division, Lieutenant David Hansberry and Officer Bryan Watson, who went by the aliases 'Hater' and 'Bullet,' are accused of arranging "drug transactions involving large amounts of drugs intended to be purchased or sold by private parties, including informants of the defendants."
The eight-count federal indictment unsealed Thursday includes possession with intent to distribute five or more kilos of cocaine, possession of a firearm, robbery, extortion and drug trafficking.
2 DPD officers charged with robbery, extortion via @wxyzdetroithttp://t.co/gTBPHtGEDL

— GodsGirl (@GodIgetitnow) April 9, 2015
"We are deeply troubled by these charges," Detroit Police Chief James Craig said, according to CBS Detroit. "While these officers are presumed innocent until proven guilty, criminal allegations of this magnitude tend to affect the erosion of public trust and tarnishing our badge."
The police officers arranged the drug transactions so they could rob the civilians when they carried out traffic stops and fake arrests. The complaint said they would fail to log the money, drugs and other property into evidence. Instead, they allegedly split the proceeds, arranged to sell the drugs and share the money generated by the sales.
READ MORE: Cope trained to justify use of deadly force - former US Marshal
According to the complaint, Hansberry and Watson "did knowingly and intentionally combine, conspire, confederate …to commit…offenses against the United States."
"Sometimes they would conspire with other drug dealers to set up individuals. They would conduct a fake arrest…and then take the drugs and money from the individual who was there for the drug deal," US Attorney Barbara McQuade told WWJ Newsradio 950.
The indictment comes months after Police Chief James Craig disbanded the department's narcotics unit and the officers became the target of a federal investigation.
Hansberry, a 16-year veteran, and Watson have been on suspension since October.
READ MORE: Murder charges for S. Carolina cop who shot black man 8 times in back
"The vast majority of the men and women of the Detroit Police Department are honest and hard-working, but these defendants betrayed their oath and their fellow officers," Chief Craig said. "We should remember that alleged criminal conduct by a few should never paint a picture that the entire police department is corrupt."