Pentagon kick-starts program to maintain superiority of US technology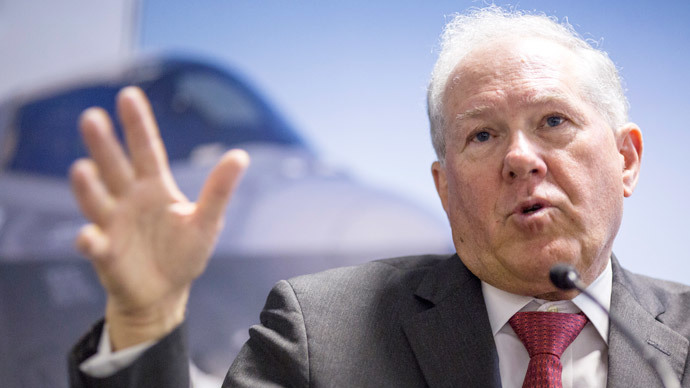 When it comes to the Pentagon's technology-buying strategy, the Defense Department wants to focus more on research and development that will spur innovation. Its updated acquisition plan will also streamline how those purchases are made.
The DoD ordered the implementation of the latest update to its acquisitions program, called 'Better Buying Power 3.0', on Thursday afternoon.
"New in Better Buying Power 3.0 is a stronger emphasis on innovation, technical excellence, and the quality of our products," Under Secretary of Defense for Acquisition, Technology and Logistics Frank Kendall wrote in a memo ordering the program's implementation. "We will continue our work to improve productivity and efficiency, but we must also turn out attention increasingly to our ability to innovate, achieve technical excellence, and field dominant military capabilities."
The theme of the program is "Achieving dominant capabilities through technical excellence and innovation."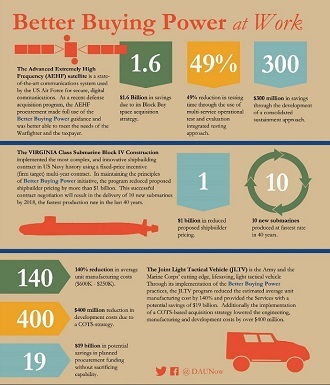 It emphasizes long-range research and development, cybersecurity, commercial technology, prototyping and experimentation, Modular Open System Architecture (MOSA), global technology, organic engineering capabilities, and Science, Technology, Engineering and Mathematics (STEM) education.
"The technological superiority of the United States is now being challenged by potential adversaries in ways not seen since the Cold War," Kendall wrote. "Efficiency and productivity are always important, but the military capability that we provide to our Warfighters is paramount. Our operational effectiveness is based on the quality of our people and the quality of our products."
"The former is not in doubt; the latter depends on our efforts and on those of the industrial base," Kendall continued.
The Better Buying Power program focuses on "DoD's mandate to do more without more," the website says, calling on the military-industrial complex to make projects more affordable in terms of funding, schedule and manpower throughout the entire lifespan of their products. It will also reward contractors for successful expense management, and ask them to eliminate unproductive processes and unnecessary bureaucracy.
The program also promotes effective competition, noting, "Real competition is the single most powerful tool available to the Department to drive productivity."
The final thrusts of Better Buying Power are to improve tradecraft in acquisition of services, as well as to improve the professionalism of the total acquisition workforce.
The first iteration of the program was created by Kendall and then-Under Secretary of Defense for Acquisition, Technology and Logistics Ashton Carter in 2010. Carter now holds the Pentagon's top post.