Kennewick 'quota cop' blasted over traffic stop
Published time: 10 Apr, 2015 01:54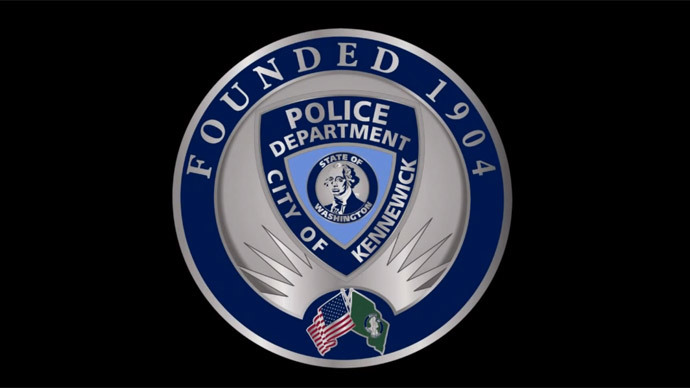 Police in a Washington city condemned the behavior of one of their officers who cited "expectations" of arrest numbers and fines. The department stopped short of apologizing after a viral video showed the cop bullying two men during a traffic stop.
"We don't have a quota. We have expectations," the officer told Omar Abarca and his brother after he pulled them over on March 31. "And what that means is, you will make so many arrests a month, you should write so many tickets a month, and you should haul so many dumbasses to jail a month. If we're gonna pay you $100,000 a year, we should expect something back from you, shouldn't we?"
Abarca posted the video of the incident to YouTube on Tuesday, attracting a lot of attention.
In a statement released on Wednesday, the Kennewick Police Department identified the officer as Glenn Ball, with 21 years of experience on the force.
"He is still on active duty during this investigation," the statement said, adding that his comments were "not consistent with our values and are not consistent with our expectations of how our officers should interact with the public."
"That doesn't look right," Sergeant Ken Lattin, police spokesman, told the Tri-City Herald. "There's no way to polish this. It looks bad and we just have to take responsibility for it."
"Would like to be part of my quota, tonight?" #Kennewick Officer under investigation after interaction goes viral http://t.co/DQwmDOuHb7

— KHQ Local News (@KHQLocalNews) April 9, 2015
Police Chief Ken Hohenberg said he was "disappointed" when he watched the video and added it did not represent how officers interacted with the public on a daily basis.
"In our agency it is not the norm," he said. "When you talk about expectations, it doesn't meet our expectations with how we treat people."
The American Civil Liberties Union (ACLU) of Washington called the officer's behavior "simply unacceptable" and praised Chief Hohenberg's "firm rebuke," as well as the two young men's ability to "to keep their cool in the face of this officer's taunts."
"The video shows a disheartening abuse of an officer's powers and a disappointing disregard of civilians' rights," Jennifer Shaw, Deputy Director of the ACLU of Washington, said in a statement Thursday.
"Telling an individual to 'shut up' and refusing to answer when he asks the officer to identify himself, threatening the person with arrest for questioning the officer's actions, and telling the individual that he does not have permission to videotape the encounter are simply unacceptable."
ACLU of Washington statement on Kennewick police traffic stop incident http://t.co/0cP6BawB5Z

— KEPR Action News (@keprtv) April 9, 2015
Kennewick is a city in southeastern Washington with a population of 76,000, part of the area known as the 'Tri-Cities' with nearby Pasco and Richland. Approximately a quarter of the population is Hispanic, though Abarca said he did not believe his treatment had anything to do with race.
"We are seeing more and more stuff like this. I don't know what the problem is. It's kind of crazy," Abarca said. "I was taught to respect the law, not fear it."
In the three-minute video, Officer Ball can be heard threatening to destroy the clean police records of Abarca and his brother, making them part of his "quota" and getting them arrested.
"On what grounds? Oh, I don't know, I'll think of something. How about aiding and abetting reckless driving?" he is heard saying.
READ MORE: Ferguson police levied excessive traffic fines on blacks – DOJ leak
Police departments around the US have come under increased scrutiny after a Department of Justice investigation of discrimination in Ferguson, Missouri, revealed law enforcement and municipal authorities used the poor and the minorities as a source of revenue. Further investigations have revealed that municipalities around the country even use private contractors to extort even more money out of poor people, who are frequently unable to pay the exorbitant fines and end up in jail.
Abarca was neither arrested nor fined during the traffic stop, but he says he felt humiliated.
"It felt like he was talking down to me, like an owner to a dog," he told a local TV station, "and that's how I took that."
While he does want Officer Ball sanctioned over the incident, Abarca does not want to see him fired, he told the Tri-City herald. "He has a family he has to feed. He's a human being. He could have had an off day. Anything could have caused this."
What he would like, he told reporters, is an apology from the department. As of Thursday, he has not received one.