Iran's recognition of Israel can't be part of nuclear deal – Obama snubs Netanyahu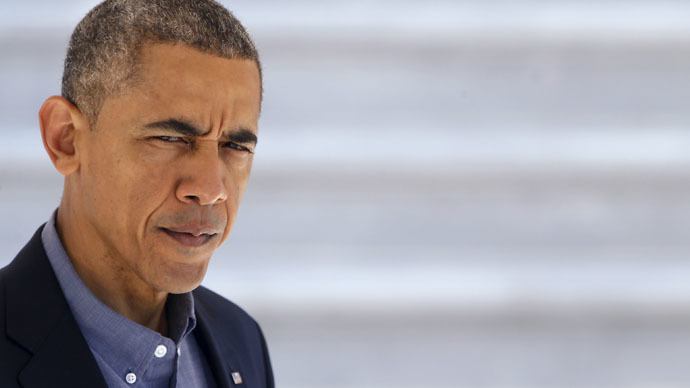 US President Barack Obama has turned down calls by Israeli Prime Minister Benjamin Netanyahu to make Iran's recognition of the state of Israel a part of a deal on Tehran's controversial nuclear program.
"The notion that we would condition Iran not getting nuclear weapons in a verifiable deal on Iran recognizing Israel is really akin to saying that we won't sign a deal unless the nature of the Iranian regime completely transforms. And that is, I think, a fundamental misjudgment," Obama said in an interview with NPR on Monday.
The P5+1 powers (US, UK, China, Russia, France, and Germany) said that they agreed a preliminary framework of the much anticipated deal with Iran last Thursday.
The announcement was followed by demands from Netanyahu to include "unambiguous Iranian recognition of Israel's right to exist" into the agreement.
The Israeli PM has been a persistent critic of the deal with Tehran, repeatedly stating that it "would not block Iran's path to the bomb. It would pave it."
"We want Iran not to have nuclear weapons precisely because we can't bank on the nature of the regime changing. That's exactly why we don't want [Iran] to have nuclear weapons. If suddenly Iran transformed itself into Germany or Sweden or France, then there would be a different set of conversations about their nuclear infrastructure," Obama said.
READ MORE: Netanyahu urges US to 'kill bad deal' on Iran
The US president reminded that "there are a whole host of countries in the Middle East that don't yet recognize Israel."
"But the most important thing for Israelis is to know that they can defend themselves, and that they have America – the world's most powerful country – there to protect them alongside their military and their intelligence operations," he said.
Relations between Israel and Iran took a downturn in early 1990s as the defeat of their common enemy, Iraq, in the US-led Operation Desert Storm made the two countries the top powers in the region.
In the past decades, Israeli leaders have blamed Iran for being "the center of world terror in our time," blaming it for supporting Hamas and Hezbollah militant groups.
Tehran's nuclear program, which Tel Aviv believes is aimed at making a bomb, has led to Israel openly speculating about military strikes against Iran on several occasions.
READ MORE: Netanyahu's actions may make Washington 'reconsider' Israel policy - White House
Iranian leaders labeled Israel a "cancerous tumor" that should be removed from the face of earth, showing full support for the creation of an independent Palestinian state.
The leaders of US and Israel are also having problems in finding common ground in recent years, with Netanyahu being dissatisfied with Obama's Middle East policies, which include mending relations with Iran and a two-state solution to the Israeli-Palestinian deadlock.
Before being reelected in late March , the Israeli PM promised that there would be no Palestinian state as long as he remains in power.
A month before that, Netanyahu stunned Obama's administration by accepting an invite from Republicans to address the US Congress, urging lawmakers to stand up to the White House and oppose Iran.
You can share this story on social media: