Netanyahu urges US to 'kill bad deal' on Iran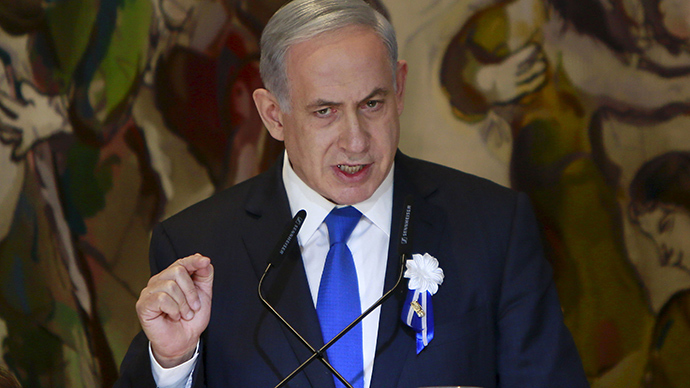 Israeli Prime Minister Benjamin Netanyahu has taken his fight against the nuclear deal with Iran a step further, appearing on three US talk shows in attempt to persuade the audience that the agreement struck is "bad" and a "better" one is needed.
The Israeli leader took to the US airwaves on Sunday to once again decry the preliminary nuclear agreement announced days ago in Switzerland and set to be finalized at the end of June.
AP reports that Netanyahu had been using a set of freshly developed talking points drafted by advisers over the weekend.
"A better deal would roll back Iran's vast nuclear infrastructure, and require Iran to stop its aggression in the region, its terror worldwide and its calls and actions to annihilate the state of Israel," Netanyahu said on CNN's State of the Union program. "That's a better deal. It's achievable."
The deal with Iran was a dream deal for Iran but a nightmare deal for the world. https://t.co/TwFb3WrwBG

— בנימין נתניהו (@netanyahu) April 5, 2015
The interim deal dictates that international sanctions be lifted if Iran meets its commitments to roll back its nuclear program. The International Atomic Energy Agency would conduct regular inspections on Iranian nuclear facilities.
Netanyahu, however, believes that sanctions should be ramped up not rolled back in order to pressure Iran until it halts its "aggression in the region." He also expresses doubt about the efficacy of inspections.
"I wouldn't bet the shop on inspections," he said. "It's not a country that you can place your trust in. And it's not a country that you're going to resolve its congenital cheating. You're just not going to replace it by placing more inspectors there."
He added on NBC's Meet the Press: "I'm not trying to kill any deal. I'm trying to kill a bad deal."
Netanyahu lashed out at the deal hours after it was signed, arguing in a phone conversation with the US President, that it would only "increase the risks of nuclear proliferation in the region and the risks of a horrific war."
READ MORE: Iran deal threatens 'survival of Israel', increases risk of 'horrific war' – Netanyahu
The White House defended the US stance on Iran against Israeli criticism, with President Barack Obama calling the agreement a "once-in-a-lifetime opportunity", as he reiterated US support for Israel in the case it may come under attack.
"I've been very clear that Iran will not get a nuclear weapon on my watch, and I think they should understand that we mean it," Obama said in a weekend interview with Thomas Friedman, a columnist for The New York Times. "But I say that hoping that we can conclude this diplomatic arrangement — and that it ushers a new era in US -Iranian relations — and, just as importantly, over time, a new era in Iranian relations with its neighbors."
Obama's message was also addressed to US lawmakers, as Republicans in the Senate pressed for Congress to be allowed to vote on the final deal between Washington and Tehran.
"Look, the president needs to sell this to the American people, and Congress needs to be involved," said Senator Bob Corker, chairman of the Senate Foreign Relations Committee.
The committee will vote on legislation on April 14 requiring Obama to submit a final nuclear agreement to Congress for review and approval.
Last month, Netanyahu raised the hackles of the administration after accepting an invite from Republicans to address US Congress urging lawmakers to stand up to the White House and stand strong against Iran. Democrats considered the move a violation of Capitol Hill protocol.
One of the Senate's most prominent voices on foreign affairs, Democrat Dianne Feinstein appeared on CNN with harsh words for the Israeli leader as he made the talk show rounds on Sunday.
"I wish he would contain himself," she told CNN's State of the Union program. "I don't think it's helpful for Israel to come out and oppose this one opportunity to change a major dynamic which is downhill, a downhill dynamic in this part of the world."
Professor of International Law at Georgetown University Daoud Khairallah told RT that although Israel will mobilize all resources to try and derail the nuclear deal, Washington and its allies in the Middle East will eventually have to adjust to a new reality.
"They had made an environment of tension in the Middle East based on vilifying Iran and creating an Iranian scarecrow and nuclear threat to the whole world. Whereas Israel sits on a huge pile of nuclear weapons," he said.
You can share this story on social media: