New radar tech targets military, civilian drones, cars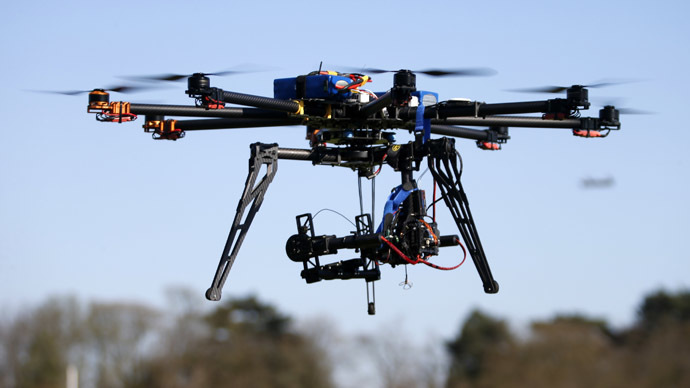 A secretive startup is touting new radar technology that could save the military millions by using 'metamaterials' to circumvent existing size, weight and cost limitations. But it could also equip civilian drones and cars with radars in the near future.
The technology would be "disruptive to existing radar markets, but also enabling for whole new categories of radars never before contemplated or thought possible," Eben Frankenberg, CEO of Seattle-based Echodyne, said in a statement.
Echodyne is working to create radar devices small and light enough to mount on small drones. While natural materials behave only based on their innate properties, the way metamaterials interact with nature is also influenced by the way they are put together.
"With our metamaterials approach," Frankenberg says, "we fundamentally change the physics of the way the antenna works. That allows us to make a huge improvement in cost, size, weight and power."
Powerful radar, mostly limited to the military, could soon be cheap enough for cars and consumer drones to use. http://t.co/qvIsPlOlWz

— MIT Tech Review (@techreview) April 6, 2015
Frankenberg noted that the price of a typical military radar system starts at $100,000, but Echodyne hopes to mass-produce radars at a much lower price, for several hundred or a few thousand dollars at most.
According to Tom Driscoll, Echodyne's co-founder and chief technology officer, the company has already tested the new radar aboard a small quadcopter drone.
"We flew it around, did some collision avoidance, and locked onto one of our engineers and followed him around my backyard," Driscoll told MIT Technology Review.
READ MORE: Google's self-drive cars to hit streets in 2015
Radar works by sending out radio waves and using the echoes that bounce back to create images of objects. The technology was developed for military purposes during World War II and remains expensive because of the size and power requirements of mechanical and electronic radars.
Part of Echodyne's "secret sauce," according to Frankenberg, was figuring out what shapes worked best for radar applications and how to build those shapes into circuit boards. The final product uses printed circuit board technology with "pretty standard off-the-shelf electronics parts," he said.
If so, it would be cheaper, smaller, lighter and use up less power than existing systems. This could revolutionize both commercial drones and self-driving cars, since unlike the laser sensors currently in use, radar can work under all sorts of environmental conditions.
"We have this concept of radar vision, where you're actually using radar as a vision system for autonomous and unmanned vehicles as opposed to an exotic military-grade only sensor," Frankenberg said.
Echodyne Targets Drones, Self-Driving Cars with Metamaterials Radar | http://t.co/JKSFadzuX3

— Xconomy (@Xconomy) March 17, 2015
Seattle's richest tech entrepreneurs seem sold on the technology. Echodyne received $15 million in funding last December from a group of venture capitalists led by Microsoft founder Bill Gates, which included the Madrona Venture Group, Allen's Vulcan Capital, Lux Capital and The Kresge Foundation.
The startup was spun off from Intellectual Ventures, a patent-licensing and innovation business started by former Microsoft Chief Technology Officer Nathan Myhrvold.
You can share this story on social media: