11 former Atlanta educators jailed for test cheating scandal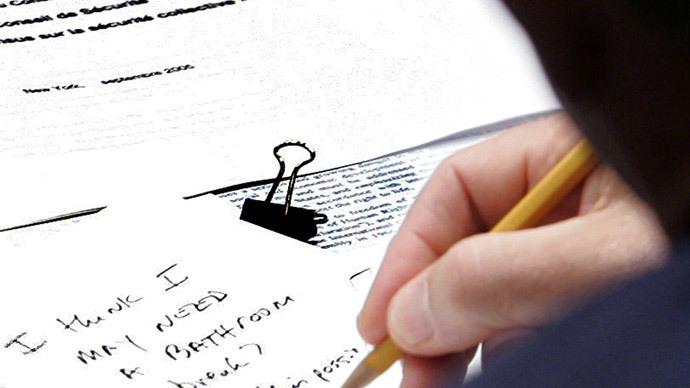 Eleven former Atlanta educators have been convicted of racketeering for their involvement in a scheme to inflate students' test scores on standardized exams.
A state investigation found the scheme, which dated back to 2005, involved 180 educators – including 38 principals – spanning 44 Atlanta school districts.
The "11," which include teachers, a principal and administrators, were locked up in jail on Thursday, where they will await sentencing later this month. The jury found them guilty of racketeering and other charges, and the 11 individuals could face up to 20 years in prison. One other defendant, a school teacher, was acquitted of all charges.
11 Atlanta educators found guilty for orchestrating one of country's biggest cheating scandals http://t.co/nlBBT1gC7Xpic.twitter.com/Jo1nBD6Osu

— The Root (@TheRoot) April 2, 2015
"I don't like to send anybody to jail," Judge Jerry Baxter said in court on Wednesday, after he ordered that the educators be detained until sentencing. "It's not one of the things I get a kick out of. But they have made their bed, and they're going to have to lie in it, and it starts today."
Prosecutors said the 12 educators on trial were more concerned with their jobs and bonuses than children's education, and defense attorneys accused prosecutors of overreach by charging their clients under racketeering laws, which are normally used against those involved in organized crime.
READ MORE:1 in 3 US families classified as 'working poor,' higher for minorities
The verdict concludes a seven-month trial and years of allegations that teachers and administrators covered up widespread cheating in Atlanta public schools.
The case stems from a scandal involving a long-serving school superintendent, Beverly Hall, who received national recognition, federal grants and awards for raising student test scores and graduation rates under the No Child Left Behind program. In 2008, the Atlanta Journal-Constitution beganto question that success, saying the scores were systemically improbable.
Attorneys provide interesting show and tell moments in APS cheating trial http://t.co/fL7aKX2nPD

— 11Alive News (@11AliveNews) March 25, 2015
A state investigation, called for by the governor, revealed student tests that had inordinate numbers of erasures that were changed to correct answers. Educators were discovered to have fed answers to students.
Investigators also discovered educators had worked together holding "erasure parties or dinners, sometimes working alone, to correct answers." An expert testified in court that the odds that students in one classroom would have so many wrong answers erased to right answers were one in 284 septillion.
READ MORE:Early learning crisis: 20 percent of children unable to communicate properly at age 5 – study
Superintendent Hall was charged, but she died before the case went to trial and her lawyers maintained her innocence. Twenty-one other educators pleaded guilty to lesser charges.
"This is a huge story and absolutely the biggest development in American education law since forever," University of Georgia law professor Ron Carlson told The Associated Press. "It has to send a message to educators here and broadly across the nation. Playing with student test scores is very, very dangerous business."