'KKK' guards arrested for plotting black inmate's murder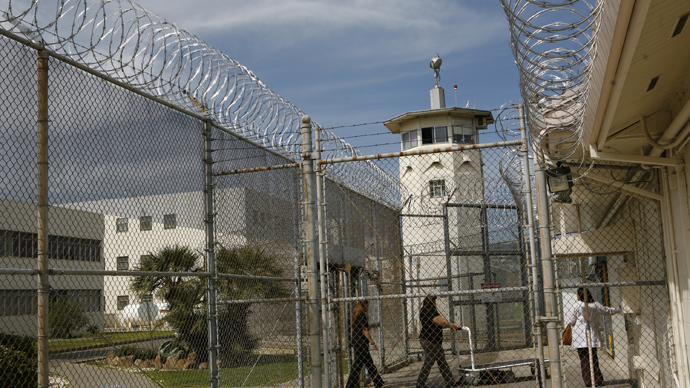 Two current and one former prison guard were arrested for plotting to kill an African-American inmate upon his release, Florida authorities said, adding the suspects were members of the Ku Klux Klan (KKK), a white supremacist group.
Thomas Jordan Driver, 25, David Elliot Morgan, 47, and Charles Thomas Newcomb, 42, were arrested on Thursday on charges of conspiracy to commit murder, according to a statement from Florida Attorney General Pam Bondi's office.
Florida prison workers were members of KKK & allegedly plotted to kill black inmate after his release, police say http://t.co/kxycfo8nwR

— PIX11 News (@PIX11News) April 2, 2015
"The defendants plotted the murder as retaliation for a fight between the inmate, who is African American, and Driver," the statement said. Bondi's office said the three belonged to the 'Traditionalist American Knights of the Ku Klux Klan.'
The group's website says their mission is to "strive forever to maintain the God-given supremacy of the White Race" and to "preserve the blood purity, integrity, cultural, and traditions of the White Christian Race in America."
Read More: Florida prisons chief asks for $30mn to reform 'abuse culture' after 346 inmate deaths
State records indicate Moran has worked as a state corrections officer since 1996, and Driver since 2010. Newcomb was identified as a former employee of the Florida Department of Corrections (DOC), but there was no indication when he may have retired or been dismissed.
Last year, Florida DOC fired almost 50 prison employees, several of them over allegations they had hit or abused inmates.
Florida Department of Corrections Secretary Julie Jones described the case as "disquieting," and told reporters the suspects were "part of a white supremacist group that was targeting inmates," reported the Miami Herald.
Jones said the Federal Bureau of Investigations briefed her on the case just before they made the arrests, and that she did not have the details of the plot or the circumstances yet.
The head of Fla's prison system - Julie Jones - says news that arrested DOC employees are KKK members is "disquieting."

— Gary Fineout (@fineout) April 2, 2015
The case will be prosecuted in Columbia County, 60 miles west of Jacksonville.
Driver and Moran work at the Department of Corrections Reception and Medical Center in Lake Butler, about 55 miles southwest of Jacksonville, the same facility where Newcomb used to work, according to the authorities. All three were arrested on Thursday. Driver and Moran are being held at the Union County Jail, while Newcomb was taken to the Alachua County Jail.
According to the statement from Bondi's office, several Florida law enforcement agencies worked on the investigations, as well as Homeland Security and US Customs and Border Patrol.