Bad bridges: Federal data shows US infrastructure crumbling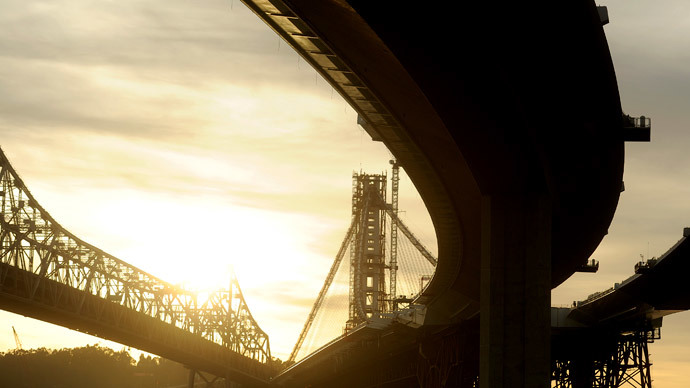 More than 61,000 bridges throughout the United States are "structurally deficient" and in need of serious repair, a national association of builders has warned, citing government statistics.
New analysis of 2014 bridge database information recently released by the US Department of Transportation (US DOT) showed that there were 61,064 "compromised" bridges handling 215 million crossings every day, mostly within the Interstate Highway System. The American Road & Transportation Builders Association (ARTBA) made its analysis public on Wednesday and urged lawmakers to help extend funding for the federal program for capital investments, due to expire May 31.
61k US bridges are "structurally deficient," says new analysis – an improvement last yr's 63k http://t.co/0zHmlzYN8Bpic.twitter.com/aGNlNKlHKH

— ProPublica (@ProPublica) April 1, 2015
The 250 most-frequently-crossed bridges that rate as "structurally deficient" are on urban interstate highways, particularly in California. Nearly 87 percent of these bridges were built before 1970.
"Many of the most heavily traveled bridges are nearly 50 years old," warned ARTBA chief economist Dr. Alison Premo Black. "Elected officials can't just sprinkle fairy dust on America's bridge problem and wish it away."
States with the greatest
number of bad bridges:

Pennsylvania (5,050)
Iowa (5,022)
Oklahoma (4,216)
Missouri (3,310)
Nebraska (2,654)
California (2,501)
Kansas (2,416)
Mississippi (2,275)
Illinois (2,216)
North Carolina (2,199)
The federal Highway Trust Fund (HTF) accounts for 52 percent of road and bridge investments made by state governments annually, but it has faced revenue shortfalls in the past six years and had to be bailed out by the federal government once before. With HTF's fate uncertain, Arkansas, Georgia, Tennessee, and Wyoming have already put on hold bridge and highway projects worth $779.7 million. Nine other states have expressed concern over future transportation infrastructure projects worth more than $1.8 billion.
While more than 2,000 bridges have been repaired since 2013, that was done at the expense of road and highway investment, said Dr. Black.
"Without additional investment from all levels of government, our infrastructure spending will be a zero-sum game," Dr. Black said, citing USDOT data showing a backlog of over $115 billion in bridge work and $755 billion in highway projects.
ARTBA offers an interactive map showing the locations and statistics for derelict bridges by state.
No April Fools': Over 61,000 US Bridges Need Repair - ARTBA analysis of DOT data. HTF faces May 31 funding deadline http://t.co/R9vEBxMoOT

— ARTBA (@ARTBA) April 1, 2015
Earlier this week, the Obama administration proposed a $478 billion bill for transportation funding over the next six years. The bill seeks to fund the HTF by imposing a 14 percent tax on an estimated $2 billion kept overseas in corporate tax shelters. An alternative proposal, being developed by a bipartisan group of lawmakers, aims to raise $170 billion in new revenue by giving tax breaks to corporations.
26 US corporations w/ largest amount of untaxed overseas profits have $1+ trillion offshore. http://t.co/4EcO3rWnHwpic.twitter.com/NjfNRTaR5Z

— For Effective Gov (@ForEffectiveGov) April 1, 2015