Carter: 'Too early to say' US is winning against ISIS as Iraqis liberate Tikrit
Published time: 31 Mar, 2015 21:41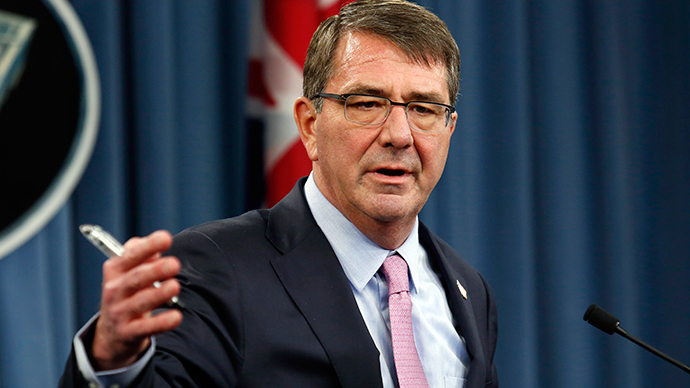 The campaign against the so-called Islamic State is going well, but it is too soon to declare victory, the Pentagon chief said in an interview as Iraqi forces said they had successfully liberated Tikrit with the help of US airstrikes.
"I think it's too early to say that we're winning, but I think we have certainly inflicted a lot of damage," Defense Secretary Ashton Carter told NBC's Savannah Guthrie during a visit to his old high school in Pennsylvania. The key part would be assembling the local forces on the ground that could "sustain the defeat" of the self-proclaimed Islamic State (IS, formerly ISIS/ISIL).
Tomorrow On TODAY: Secretary of Defense Carter speaks to @SavannahGuthrie in his first interview since being sworn in pic.twitter.com/7uGdHWdJbZ

— TODAY (@TODAYshow) March 30, 2015
Iraqi forces successfully liberated Tikrit after a month of fighting, Prime Minister Haider al-Abadi announced on Tuesday. The city, about 100 miles (160 kilometers) north of Baghdad, had been under IS control since June 2014. US airstrikes began last week to help the stalled Iraqi ground offensive.
Read More: US launches Tikrit airstrikes as Iraqi offensive stalls
The Pentagon confirmed US airstrikes have continued this week, with eight overnight strikes against IS positions near Tikrit, the northern Iraqi city of Mosul, and the Kurdish-held town of Kobani in northern Syria.
"The success of the Tikrit experiment will be repeated in other areas," al-Abadi told Iraqi media.
Pics from #Tikrit battle pic.twitter.com/MmpgJ3KIWt

— Methaq Al -fayydh (@AlFayth) March 31, 2015
"It's the lasting nature of the defeat that's really the key," Carter said in the TV interview, echoing his comments to US troops in Kuwait during his February visit. A lasting victory, he said then, would require "those who can take responsibility for their societies and their territory after the campaign against ISIL has rid them of this scourge."
"It will take some time to inflict defeat upon ISIL," Carter told Guthrie. "We're still building the coalition and building the forces, and that's why I'm hesitant to say we're winning. I'm confident we will win."
The loss of Tikrit is the first major defeat for the Islamic State since the retreat from Kobani in October 2014.
Map of #ISIS controlled and penetrating area in #Iraq and #Syria#Tikrit#IslamicState#Damascus#Iran#IranTalkspic.twitter.com/7tC4KlvjAq

— Ali Haad (@haadali01) March 12, 2015
Carter is on a two-day tour of Pennsylvania and New York, speaking to students and soldiers about reforming the Pentagon in order to create the "force of the future." Today's youth, he said, don't want to go into big, rigid institutions, but prefer something "agile, nimble and inspiring."
Read More: Pentagon's 'Force of the Future' drive could ease job recruitment standards
The top civilian at the Pentagon also commented on the current conflict in Yemen, nuclear negotiations with Iran, and the controversial prisoner swap involving Sergeant Bowe Bergdahl, charged last week with desertion and misconduct.
"We do have a principle," Carter said, declining to comment on any details of the case. "We bend over backward in trying to return an American serviceman."
Read More: Army Sgt. Bowe Bergdahl charged with desertion
Any agreement on Iran's nuclear program "cannot be based on trust," the secretary said, but "has to be based on verification." If the deal falls through, or is violated, "the military option certainly will remain on the table."
Asked to comment on the war against Al-Qaeda in the Arabian Peninsula (AQAP), disrupted by the recent conflict in Yemen, Carter said the US was "going to continue to prosecute our counterterrorism operations against AQAP whatever happens on the ground there," but would "have to do it in a different way."
Read More: Creepy Veep: Joe Biden chalks up another sensational 'snuggle'
Much of the media coverage of Carter's interview focused on him shrugging off the scene from his inauguration, when Vice-President Joseph Biden hugged his wife and whispered to her. Carter said he "laughed" when he watched the video clip of the scene.
"They know each other extremely well. We're great friends of the Bidens," he said.