Medicare spending on hepatitis C drugs soared 15-fold in 2014
Published time: 30 Mar, 2015 18:28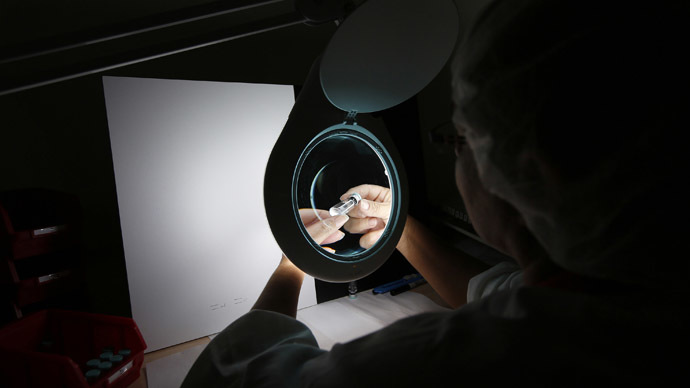 The US government's Medicare insurance program spent $4.5 billion in 2014 on hepatitis C drugs ‒ more than 15 times what it spent in 2013. The drastic increase is thanks to three recently approved drugs that hit the market last year, a new report shows.
The Food and Drug Administration (FDA) approved Sovaldi for the treatment of hepatitis C in December 2013. The drug, which costs $84,000 for a 12-week course of treatment, accounted for more than $3 billion of the government's spending the following year. Another drug, Harvoni, hit the market in October 2014, and accounted for $670 million in just three months. Spending on a third drug, Olysio ‒ which is often taken in conjunction with Sovaldi ‒ reached $821 million, according to a joint report by ProPublica and the Washington Post.
The high prices come even though the government is able to secure discounts, with Medicaid receiving a 23.1 percent rebate on brand-name drugs and the Department of Veterans Affairs receiving up to a 44 percent discount on Sovaldi, according to Health Affairs. Those federal programs, as well as private insurers, took a more restrictive approach to the drugs, requiring patients be in advanced stages of liver disease before approving them for the expensive regimen.
READ MORE: Hepatitis C kills more in US than HIV
Sen. Bernie Sanders (I-Vermont) has criticized the costs of the drugs, calling the expensive price tag a "moral issue."
"The cost of Sovaldi is not only an economic issue in terms of the impact of the cost of this drug on the VA, on Medicaid, on Medicare, it is a moral issue, and that is how many people in this country will suffer, how many will die very painful deaths because of the excessive costs of this particular product," Sanders said in a written statement to ProPublica.
Sovaldi falls under the Medicare Part D program, which requires the private insurance companies which administer Part D on the government's behalf to cover all medically necessary drugs for any indication approved by the FDA or recommended in clinical guidelines.
Part D spent approximately $286 million on earlier-generation hepatitis C drugs in 2013, Sean Cavanugh, director of Medicare and deputy administrator at the Centers for Medicare and Medicaid Services (CMS), told ProPublica and the Washington Post.
The new drugs, combined with other expensive specialty medications for the disease that are expected to be approved by the end of 2015, are threatening to dramatically increase the government's spending on Part D. In 2013, the government spent $65 billion on Part D, according to the Medicare Payment Advisory Commission. That figure doesn't include monthly premiums paid by patients, ProPublica said.
Under Part D, patients pay $320 before Medicare's standard drug deductible kicks in, and must pay $4,700 out of pocket ‒ or about five days of the 12-week Sovaldi regimen ‒ before they are covered by the program's catastrophic coverage. At that point, Medicare picks up 80 percent of the cost, health plans pay 15 percent and patients pay the remaining five percent.
About 350,000 Medicare beneficiaries have hepatitis C, although less than half of them are aware they have the disease, Health Affairs reported, based on its analysis of the National Health and Nutrition Examination Survey (NHANES).
Just under three million people in the US are estimated to have hepatitis C, according to a paper published in the Annals of Internal Medicine in March 2014. That paper was also based on the NHANES.
The ballooning price tag for the disease was predicted in a November report by the IMS Institute for Healthcare Informatics, which anticipated that, by 2018, total global pharmaceutical spending will increase to $1.3 trillion. Of that, about $100 billion will be spent on hepatitis C drugs.
READ MORE: World pharma spending to exceed $1trn in 2014 - study
Medicare officials said they are watching the costs carefully, and early indications suggest that 2015's spending is on track to match or even exceed last year's, Cavanaugh said.
"We're all waiting to see when it plateaus or when it possibly goes back down," he said in an interview with ProPublica. "When will that pent-up demand be sated?"
States are also spending heavily on the new hepatitis C drugs. Preliminary data shows that state Medicaid programs for the poor collectively spent $1.2 billion on the drugs in the first nine months of 2014.
Despite the high cost, Solvadi (alone or in combination with Olysio) and Harvoni have a 90 percent or higher cure rate for hepatitis C, a much higher rate than previous treatments. They also have fewer harmful side effects. Many doctors believe that the better quality of life that the drugs provide justifies the high cost of the medication.
"Curing hepatitis C will likely go on to prevent liver cancer, go on to prevent patients needing liver transplantation, go on to save healthcare dollars down the road," Dr. Adam Peyton, a liver specialist at the University of Miami Health System in Florida, who prescribed $13.5 million worth of hepatitis C drugs in Part D last year, told ProPublica. "It's upsetting that there's been so much negative publicity for such a positive breakthrough in medicine."
But some reports show that the cost isn't worth the long-term savings. To treat the eligible patients in the US with the new drugs could cost an additional $65 billion in the next five years, but the offsetting savings would only be $16 billion, a paper published in the Annals of Internal Medicine in mid-March found.