Cat litter was responsible for $500m radiation leak, nuke waste site shutdown – US Energy Dept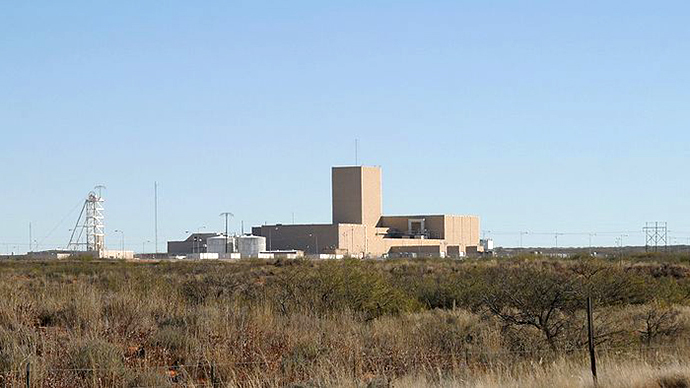 Cat litter was among the "chemically incompatible" contents of a barrel of nuclear waste, which prompted explosive chemical reaction and a radiation leak at US's only underground nuclear waste repository, an investigation has found.
Just one barrel of waste leaked radiation that prompted the whole of the Waste Isolation Pilot Plant (WIPP) near Carlsbad, New Mexico, suspend its operations indefinitely, the US Energy Department said in a report Thursday about an incident in February 2014.
The ill-fated drum of waste was packed at the Los Alamos National Laboratory near Santa Fe. It was there that an erroneous decision to use organic cat litter, instead of non-organic one, was made.
Cat litter is routinely used in storing nuclear waste for absorbing liquids. The organic one apparently does not mix well with the nitrate salts inside barrels.
"A series of ever-increasing heat releasing reactions occurred, which led to the creation of gases within the drum," the team of independent scientists wrote in a 277-page report, cited by AP. "The resulting buildup of gases within the drum displaced the drum lid, venting radioactive material and hot matter that further reacted with the air or other materials outside the drum."
The scientists have thus confirmed earlier theories on the cause of the radiation leak, which affected 22 workers at the site. The extent of exposure is not health-threatening, according to Nuclear Waste Partnership LLC, the contractor that operates the plant, cited by Reuters.
READ MORE: Cat litter thought behind New Mexico nuclear waste accident
The damage from the leak is mostly a financial one. The now-closed New Mexico nuclear waste site is the only permanent underground repository for certain types of radiological waste in the US.
It's been estimated by the US Energy Department that the recovery could cost $500 million and last for two years, AP reported.
There are other barrels with organic cat litter inside that could be potentially dangerous.
"We are reviewing the report and its findings now as we continue working to mitigate the risks of this happening again," the US Energy Department said in a statement. "Additional precautions have been taken to secure other drums with similar nitrate and organic materials as those identified in the report."
The team of researchers experimented with all kinds of chemicals that could come together outside the barrels of waste, but eventually grew confident the reaction was inside the drum.
The scientists have complained of limited access to the source of the radiation leak and of inconsistent documentation on how Los Alamos processed the waste.
New Mexico is demanding the Energy Department, the contractors running the underground dump and Los Alamos lab pay $54 million in fines for letting the leak happen.
You can share this story on social media: