US Army National Guard soldier, cousin arrested for conspiring to support ISIS
Published time: 26 Mar, 2015 16:53
Edited time: 26 Mar, 2015 17:48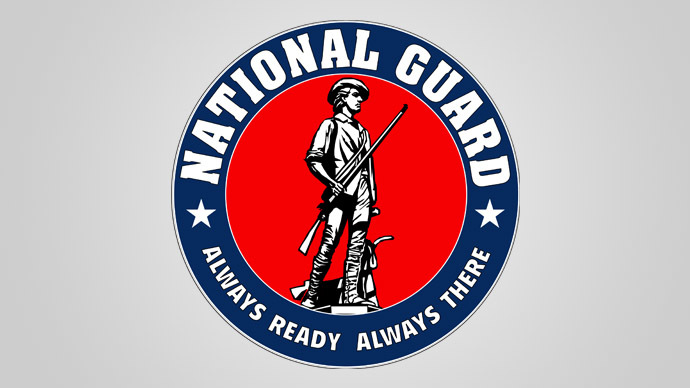 A member of the United States Army National Guard and his cousin have been arrested and charged with planning to provide material support to the Islamic State. Facebook chats with an undercover FBI agent led to the arrest.
The US Department of Justice announced on Thursday that two residents of Aurora, Illinois were arrested on Wednesday evening and charged with one count each of conspiring to provide material support and resources to a foreign terrorist organization.
National Guard Specialist Hasan Edmonds, 22, was arrested Wednesday at Chicago's Midway International Airport, where authorities say he planned to fly to Cairo, Egypt in order to join the group calling itself the Islamic State (also known as ISIS, or ISIL). His cousin, 29-year-old Jonas Edmonds, was arrested inside his Aurora, IL home that same evening.
Both men are expected in court on Thursday afternoon, according to a statement released on Thursday by the Justice Dept.
A criminal complaint filed by federal authorities against the men alleges that the cousins had devised a plan in which the younger of the two would travel overseas "for the purpose of waging violence on behalf of ISIL," according to the DOJ.
Hasan Edmonds is a current member of the Illinois Army National Guard, the statement said, and had planned to use his military training to assist the ongoing operation waged by the Islamic State.
"In addition, they plotted to attack members of our military within the United States. Disturbingly, one of the defendants currently wears the same uniform of those they allegedly planned to attack," Assistant Attorney General for National Security John P. Carlin said in a statement.
If convicted, the men face a maximum of 15 years in prison and a quarter-million-dollar fine each.
Undercover FBI agent engaged in Facebook conversations
According to the complaint unsealed this week, authorities began investigating the men in late 2014. Soon after, an agent with the Federal Bureau of Investigation acting in an undercover capacity sent a friend request to Hasan Edmonds on Facebook and began engaging him in conversation about the Arabic language. The topic then switched to that of Islam, and the two began discussing the faith further over a different online service.
On or around January 24, according to the complaint, Hasan Edmonds messaged the FBI agent and said it was his "duty" to support ISIS or to become a martyr in doing as much.
"[I]'d rather struggle and strive hard in the cause of Allah rather than sit back and live a 'comfortable life,'" Edmonds allegedly said."…The State has been established and it is our duty to heed the call."
READ MORE: FBI accuses Air Force vet of planning to join ISIS
According to the FBI, Edmonds admitted to the agent that he was already a member of the American "kafir," or "infidel" army, but had no intention of finishing his service with the US.
"I wish only to serve in the army of Allah alongside my true brothers," he supposedly said. In subsequent conversations that month, according to the FBI, Edmonds discussed attacking police stations and courts. On February 2, he allegedly told the agent that his cousin, Jonas, was willing to conduct an attack on America's borders.
By March, Hasan Edmonds and the undercover agent were discussing possible ways of traveling to the Middle East to join ISIS, according to the FBI. Meanwhile, the same agent had begun engaging the cousin, Jonas, about possibly relocating and "indicated that resources would be available" if he promised to travel for the sake of fighting alongside the militants.
A second undercover agent soon entered the mix, according to the complaint, and met with Jonas Edmonds on March 3. Those two began discussing arrangements to bring Hasan Edmonds to Islamic State territory, and airfare was purchased on March 13 from Chicago to Cairo.
"We will pursue and prosecute with vigor those who support ISIL and its agenda of ruthless violence," US Attorney Zachary T. Fardon of the Northern District of Illinois said in Wednesday's statement. "Anyone who threatens to harm our citizens and allies, whether abroad or here at home, will face the full force of justice."
Thursday's news comes less than two weeks after the DOJ unsealed a criminal complaint against another member of the US military, 47-year-old Air Force veteran Tairod Nathan Webster Pugh of Neptune, NJ. According to authorities, Pugh had planned to travel to Syria to join the Islamic State.