Mexican farmworkers strike as millions of dollars worth of crops rot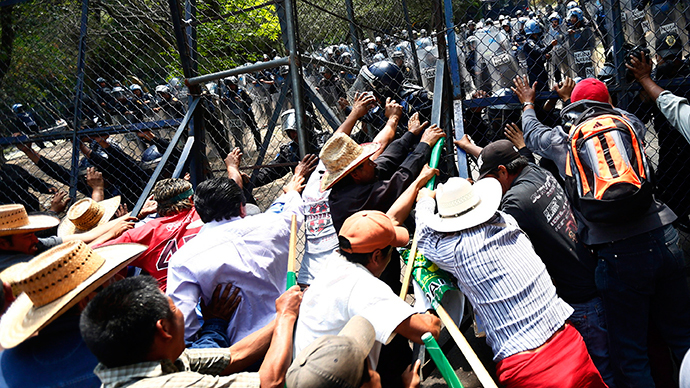 More than 50,000 Mexican farmworkers are striking in Baja California, violently demonstrating against low pay, abuses and poor working conditions. As millions of dollars worth of crops rot in the fields, protest leaders are set to meet with growers.
Farmworkers are burning tires and throwing rocks in Baja, an agricultural border state that supplies millions of dollars worth of tomatoes, strawberries and other produce to the US. Hundreds of protesters have blocked the Transpeninsular Highway, the main north-south highway, on and off as the strike has spread across the state, the Associated Press reported.
Demonstrators are demanding healthcare, overtime pay, days off, water, breaks, an end to arbitrary firings and abuse ‒ especially sexual abuse ‒ by field bosses, and for wages to be raised to about $20 a day. Currently, most farmworkers earn $8-10 for a full day of labor spent stooped over the crops in hot-house farms.
Mexico's #SanQuintín farmworkers strike for better conditions http://t.co/7NEUKyiq8opic.twitter.com/QIQ0z2vmPA

— ThinkMexican (@ThinkMexican) March 24, 2015
"We all saw it as something normal for [farm owners] to suspend people from work for three or four days, or fire them without severance for demanding respect for our rights, for demanding overtime or days off," Jose Ignacio Garcia, a 19-year-old who has worked the fields in Baja since he was 12, told AP. "We got used to working more than 10 hours a day for 100 pesos ($7), but that doesn't even buy the minimum necessities you need to live, to support a family." He is expecting his first child in August.
Celina Sierra, 27, who has worked in the fields since she was 14, supports her two children and her mother on her paycheck.
"We get up at 4 in the morning to wait for the truck to take us to the fields," Sierra told AP. "We get to the fields at 6:30 even though we're not supposed to start work till 7... They never pay overtime, they tell us we have to finish a harvest and work until four or five o'clock in the afternoon, bent over and sometimes without water."
But the strike, which began last week, is threatening to destroy thousands of jobs as crops rot in the fields.
"If the fields continue without a workforce, the harvests will be lost and that will affect everyone who depends on this part of the economy," Baja California Gov. Francisco Vega's office said in a statement.
Mexican police arrested more than 200 people after protests devolved into riots, rock-throwing and vandalism last week, the Los Angeles Times reported. Restaurant and shop owners in the San Quintin and other Baja towns are boarding up their businesses as more than 1,000 police and army soldiers have spread throughout the state.
The strike comes a month after Mexico's agricultural sector established an alliance of industry trade groups focused on improving the lives of farmworkers, according to the LA Times. But the group hasn't yet addressed the underlying causes of the unrest, and the lack of specific remedies proposed has raised doubts among some human rights groups and labor unions.
"Right now [the alliance] is a public relations ploy," said Erik Nicholson, vice president of the United Farm Workers of America, whose representatives are advising labor leaders in San Quintin. "They failed the first round. We've seen or heard nothing on them calling on their peers in Baja to comply with the law."
On Wednesday, a coalition of farmworker groups are set to begin direct negotiations with the Agricultural Council of Baja California, which represents the Baja growers in the labor dispute and in the national alliance.
Riot #police protect a government building in San Quintin, #Mexico as the farm workers #strike continues. pic.twitter.com/EwCqk1i3dQ

— David Douglas (@DavidDouglasTV) March 24, 2015
Economist Alejandro Diaz Bautista told AP that the area lacks elemental services: water, jobs, hospitals, cultural and school facilities. Many farmworkers are from indigenous communities and speak limited Spanish.
"The economic and social problems in San Quintin have to do with social inequality," Diaz Bautista said.
In the region about 200 miles south of San Diego, 64 percent of the population lacks adequate housing and access to water, power and sanitation; 47 percent lack healthcare services, and 59 percent of children between 15 and 17 are not in school, according to Mexico's National Institute of Statistics and Geography. Many are functionally illiterate.
You can share this story on social media: