​Chicago police disproportionately target minorities with stop-and-frisk - ACLU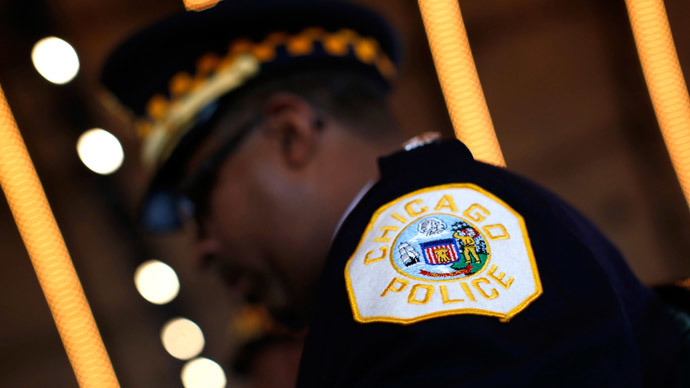 Move over, Manhattan. The controversial stop-and-frisk practice once common among the New York Police Department has spread to Chicago, according to a new report, and is more prevalent in the Windy City than in the Big Apple.
A report published by the American Civil Liberties of Illinois on Monday accuses Chicago Police Department officers of overwhelmingly targeting minorities during an apparent stop-and-frisk surge last year.
African-Americans accounted for around 72 percent of civilians stopped by the CPD during a four-month period last summer, according to the ACLU. This is despite them accounting for less than one-third of Chicago's population. Whites and Hispanics were subjected to stop-and-frisk policing 17 percent and 9 percent of the time respectively.
From May through August 2014, according to the report, the CPD stopped around a quarter of a million people without making an arrest. With statistics showing that minorities are predominantly the victims of these searches, the ACLU report suggests constitutional violations may be afoot.
"What this data shows should be a wake-up call for residents of the city," Karen Sheley, a senior legal counsel with the Illinois ACLU and one of the authors of the report, said in a statement. "[The] CPD is engaging in wholesale stop-and-frisks of African American youth, without any link to criminal activity in most cases.
"These stops don't make us safer, they simply drive a wedge further between the police and the public they serve," Sheley added.
Stop and Frisk in Chicago by Todd Feurer
In 2013, a federal court judge ruled stop-and-frisk tactics, which had become commonplace in New York City, had established a "policy of indirect racial profiling" and declared it unconstitutional. Roughly 83 percent of the stops in NYC between 2004 and 2012 involved blacks and Hispanics, the New York Times reported when US District Court Judge Shira A. Scheindlin made her decision. Those groups made up only around 50 percent of the city's population.
Despite the court's ruling, stop-and-frisk is still rife in Chicago, according to the ACLU.
"While most of the media coverage has suggested that the stop-and-frisk was a New York phenomena, its use is not limited to New York," Harvey Grossman, the ACLU's legal director, said in a statement.
"Chicago has been systematically abusing this practice, for reasons that are not justified by our constitution," added Grossman. "And just like New York, we see that African Americans are singled out."
READ MORE: Appeals court blocks ruling against NYC stop-and-frisk policy
The 23-page ACLU report out this week contains recommendations the organization believes the CPD should adopt to ensure that alleged constitutional violations taper off, as had finally happened in New York after years of litigation. Among the suggestions are that the CPD begin collecting data on all instances involving individuals who are stopped and frisked, and then making that information available for public scrutiny. The ACLU says the department could also benefit from offering police officers training on the legal requirements concerning stop-and-frisk, to ensure they are aware of when and why they can stop civilians.
According to the ACLU, CPD officers are often lax at documenting instances of stop-and-frisk, making it hard to enumerate them accurately.
#Chicago is 32% Black, yet Blacks made up 72% of pedestrians stopped last yr by city police. @ACLUofIL#stopandfriskhttp://t.co/fFz25meICZ

— ACLU National (@ACLU) March 23, 2015
"In the face of a systemic abuse of this law enforcement practice, Chicago refuses to keep adequate data about its officers' stops," the report reads. "Officers do not identify stops that result in an arrest or ordinance violation, and they do not keep any data on when they frisk someone. This failure to record data makes it impossible for police supervisors, or the public, to identify bad practices and make policy changes to address them."
"The data makes clear that stop-and-frisk is a problem in Chicago and needs to be reformed," added Grossman, the legal director. "The city has an opportunity to make modest fixes now, rather than risk further alienation with large swaths of the public."
Weighing in on the report, CPD spokesperson Superintendent Garry McCarthy told the Chicago Tribune the department "flatly prohibits racial profiling and other race-based policing."
You can share this story on social media: