UVA keeps protesting honor student's arrest, legislators call for end to ABC arrest powers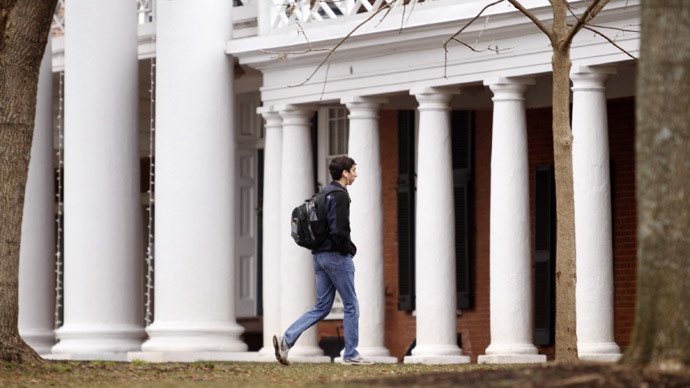 The University of Virginia basketball team may have national championship dreams, but this March, Charlottesville residents are mad about the arrest of a black UVA honor roll student in the Cavaliers' hometown.
Since the arrest of 20-year-old Martese Johnson in the early hours of Wednesday morning that left the third-year undergraduate with a head injury that required 10 stitches, the central Virginia city's community has come out to rally against what they are calling an unnecessary use of force.
The UVA Student Council held an open forum Friday regarding the case, where they invited members of law enforcement, the Department of Criminal Justice Services, agents from the Department of Alcoholic Beverage Control (ABC) and Secretary of Public Safety and Homeland Security Brian Moran to talk about the relationship that exists between members of the student body and local law enforcement.
READ MORE: 'Brute handling': Black student's bloody arrest prompts college protest
"One thing that really stood out from that forum today is that one person asked why no one there could answer any questions as to what exactly had happened to Martese Johnson or why this had happened to [him]," RT's Manuel Rapalo reported from Charlottesville.
"Of course, the Virginia secretary of public policy said that while nobody on that panel could answer exactly any of these questions specifically, we've all at this point seen those troubling images of Martese Johnson kind of bloodied in the face, facedown on the pavement."
At the time of the incident, a bouncer at Trinity Irish Pub asked Johnson to step aside after refusing to accept his ID during St. Patrick's Day celebrations. The ABC officer reached the student shortly after, according to Bryan Beaubrun, a third-year student who said he witnessed the incident.
"[An] ABC officer approaches Martese and grabs him by the elbow…and pulls him to the side," Beaubrun told the Cavalier Daily student newspaper.
"It happened so quickly," Beaubrun recalled. "Out of nowhere I saw the two officers wrestling Martese to the ground. I was shocked that it escalated that quickly. Eventually [he was] on the ground, they're trying to put handcuffs on him and their knees were on his back."
Since photos and videos of the arrest were posted on social media, there have been demonstrations in the idyllic college town. On Wednesday night, less than 24 hours after the incident, over 1,000 students gathered to protest the treatment of Johnson. On Thursday afternoon, a rally began outside Minor Hall, which contains classrooms and offices of the College of Arts and Sciences, then students marched around the historic grounds chanting, "No justice, no peace, no racist police" and "black lives matter," the Cavalier Daily reported.
Gov. Terry McAuliffe (D-Va.) ordered the Virginia State Police to conduct an "administrative review" into whether or not the arrest was a case of police abuse. The Charlottesville prosecutor has requested a criminal investigation into the behavior of the ABC agents, who have been reassigned to administrative duties while the probes are ongoing.
For a lot of members of the community, especially members of the African-American community in Charlottesville, it's a question of whether or not this was racially motivated, Rapalo told RT's Ameera David.
"Even at the forum today, that was a question that was asked over and over again," Rapalo said. "Why did this happen here? Why is this a situation that we continue to see play out in communities all across the United States?"
There has been a lot of animosity towards the officials who conducted the arrest, in part because this isn't the first time ABC agents has have come under fire for their interactions with the public during arrests.
Uva students protest in response to Martese Johnson's brutal attack by the police http://t.co/qPpioyMYTypic.twitter.com/HaOYqO1D00

— V (@_Nxdin) March 19, 2015
Last year, the state of Virginia reached a $212,500 settlement with a UVA student who was arrested after her purchase of water was mistaken for beer in 2013. Elizabeth Daly, a 20-year-old, was charged with eluding police and assaulting an officer after her SUV grazed two of the agents. The charges were dropped after the student's arrest caused a public outcry.
Now some legislators in the commonwealth are suggesting that ABC agents not be allowed to have the same ability to arrest citizens that police forces do, the Washington Post reported.
"Given what happened yesterday and what happened a couple of years ago [to Daly], it raises some serious question in my mind whether they should have arrest powers," state Sen. Donald McEachin of Henrico County said Thursday.
At the end of the forum on Friday, members of the Student Council said that this wasn't the end of the conversation and that there's a lot more that needs to be discussed, Rapalo said.
The city sheriff's office said on Thursday that they are continuing to encourage peaceful protests, but given the amount of eyewitnesses that were there at the time of the arrest and the video that's been presented, they are confident that an accurate report will come out sooner rather than later.