US plans show of force with 'Dragoon Ride' through Eastern Europe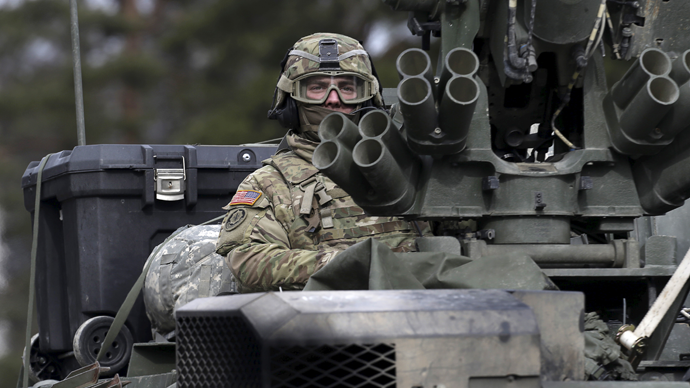 The United States is planning a military exercise that will weave its troops through Eastern Europe before they arrive at their home base in Germany – a show of force intended to reinforce its commitment to the Baltic states.
Comprised of the US Army's 2nd Cavalry Regiment, the convoy will trek some 1,100 miles to Vilseck, Germany after its training mission concludes in Poland, Lithuania and Estonia, Stars and Stripes reported. Beginning on March 21, the troops will move out from these locations and run through Latvia, the Czech Republic and then on to Germany by April 1.
The exercise, called a "Dragoon Ride," will involve the military's Stryker vehicles – which the US is expected to station in Europe – and stop in a new locale every night. These vehicles are typically transported by rail, but the decision to convoy them to Germany is meant to demonstrate American and NATO commitment to the region.
Stryker convoy on the road: 1,100-mile convoy through six countries in #AtlanticResolve: http://t.co/DrWAjdOGp8pic.twitter.com/yD557tThpK

— US Mission to NATO (@USNATO) March 15, 2015
"This is a complex mission involving a significant amount of international diplomatic and military cooperation," Lt. Col. Craig Childs, a US Army in Europe spokesman, said in a statement to Stripes. "It will allow all units involved an opportunity to test their unit maintenance and leadership capabilities while simultaneously providing a highly visible demonstration of US commitment to its NATO allies and demonstrating NATO's ability to move military forces freely across allied borders in close cooperation."
There is another angle to the Dragoon Ride, according to the Army's top commander in Europe, as it will show off the ability of the US to easily move military units throughout Europe. Speaking with Defense News, Lt. Gen. Ben Hodgesnoted recent Russian exercises moving tens of thousands of troops and said that America's similar move will help reassure allies.
READ MORE: Ukraine, Poland, Lithuania to form joint military force
"This is what the US Army does, we can move a lot of capability a long distance," Hodges told the website. "I've been watching the Russian exercises ... what I cared about is they can get 30,000 people and 1,000 tanks in a place really fast. Damn, that was impressive."
Additionally, troops will use their overnight stays to meet the local communities housing them.
"Soldiers and their leaders will have numerous opportunities to engage with local communities along the route, deepen their appreciation for the cultural diversity within the alliance and enhance the relationships that are essential to building and maintaining mutual admiration, respect and trust among allied militaries," Childs said.
The move comes shortly after the one-year anniversary of Russia's annexation of Crimea, with tensions between the Kremlin and the West remaining high over the conflict in Ukraine. The US and Europe claim Russia is fueling separatists in eastern Ukraine with supplies, support and troops, while the Kremlin maintains it's not involved.