Video reveals Dallas cops shooting schizophrenic man holding screwdriver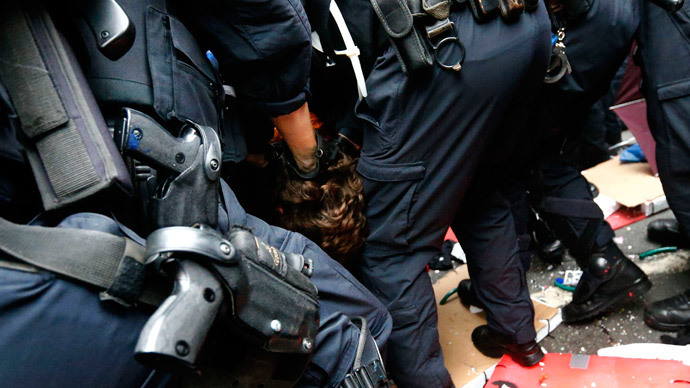 Dallas police shot a mentally ill black man on his doorstep because he was holding a small screwdriver, a newly released video shows.
Jason Harrison, 38, was shot six times in the chest, arm and back on June 14 last year. The event was captured on the body camera of one of the officers, but the recording was only released this week by the attorney for Harrison's family, which is suing the city over the killing.
Harrison suffered from schizophrenia and bipolar disorder, and his mother Shirley had called the police on several prior occasions to help her get him to a hospital. The video shows her calmly exiting the house, telling the officers her son was "just off the chain" and a "bipolar schizo." As soon as the officers saw Harrison holding a screwdriver, however, they began to yell at him to drop it. Seconds later, one of them opened fire.
The original body cam video is 18 minutes long. The Dallas Morning News posted an edited version showing the minute of the shooting.
(WARNING: GRAPHIC IMAGES)
Police initially said that Harrison had become aggressive when officers ordered him to drop the screwdriver and that the officers' actions were justified.
Harrison's brother Sean called that claim "a slap in the face." Jason was off his medication but had no history of violence and had not threatened anyone. "There's no way you can look at that video and say they did the right thing," Sean Harrison told reporters.
READ MORE: Ferguson police chief resigns following DOJ report
Police conduct has come under increased scrutiny following the August 2014 shooting of Michael Brown in Ferguson, Missouri. A 105-page report by the Department of Justice, released earlier this month, claimed a "a pattern or practice of unlawful conduct within the Ferguson Police Department that violates the First, Fourth and Fourteenth Amendments to the United States Constitution, and federal statutory law." Ferguson Police Chief Thomas Jackson resigned as a result.
Though some police departments have responded to scrutiny by equipping their officers with body cameras, the process has been plagued by allegations of cronyism. On the other hand, a Texas legislator proposed a bill last week that would make it a misdemeanor to record law enforcement activity from within 25 feet of a police officer, by way of a mobile phone, professional camera or anything in between.
RT's Anya Parampil has more on recent cases of police misconduct:
You can share this story on social media: