North California farmers ditching crops to sell water to south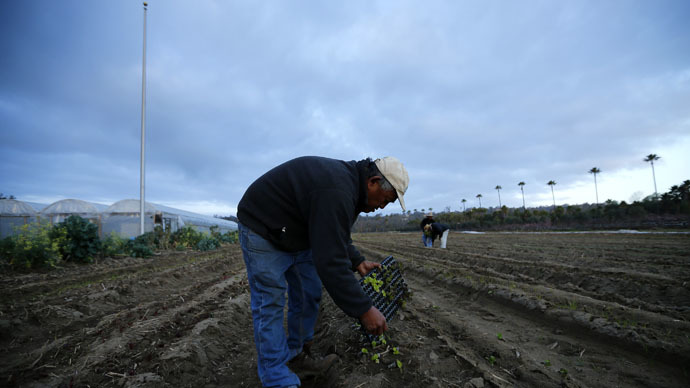 Some rice farmers in Northern California are skipping planting their crop this year and choosing instead to sell their water rights to Southern California. The Metropolitan Water District is desperately searching for water to add to its low supply.
READ MORE:11 trillion gallons of water to relieve California drought - NASA
The price is double what the Metropolitan Water District, which provides water from Los Angeles to San Diego County, paid five years ago as the state goes through its fourth year of serious drought.
"We're going to make a lot more selling the water than planting the rice," Lance Tennis, whose family owns about 900 acres of farmland 80 miles north of Sacramento, told NBC News. "This is a huge deal."
#LosAngeles willing to pay #Sacramento rice farmers $700 per acre-foot for water! #CAdroughthttp://t.co/XfvcAljYbwpic.twitter.com/FLgsAMLqPt

— Ed Joyce (@EdJoyce) March 17, 2015
Rice farmers were amazed when they were offered $500 per acre foot last year only to see that this year they are being offered $700. The new price means growers will earn a lot more money on the fields they don't plant, making water itself the real cash crop in California.
"In the long term, if we don't make it available we're afraid they'll just take it," said Charlie Mathews, a fourth generation rice farmer with senior rights to Yuba River water, to CBS' KPIX5.
READ MORE: Only 1 year of water left in California, NASA scientist suggests rationing
Matthews and fellow farmers have agreed to sell 20 percent of their water rights to the Metropolitan Water District. An acre foot of water is almost 326,000 gallons of water, enough for two Southern California households for a year.
"That's where the water is available," Bob Muir, spokesman for the Metropolitan Water District, told NBC News. "It still won't stave off possible mandatory restrictions this summer. Believe me, every drop of water counts in this year or any drought year."
Muir said the 100,000 acre-feet of water being sought is a relatively small amount and makes up about 2 percent of typical water demand in the region. The water district is approved to spend up to $71 million to buy water from nine districts in the Sacramento Valley.
READ MORE:Nestle continues to sell bottled water sourced from California despite record drought
Last week, NASA's top water scientist said California only has about one year's worth of water left in storage, and its groundwater – often used as a backup for reservoirs and other reserves – is rapidly depleting. He suggested immediately rationing water.
California just had the driest January since record-keeping began in 1895, with groundwater and snowpack levels at all-time lows, NASA scientist Jay Familglietti wrote in a column for the Los Angeles Times. He said the state has been running out of water since before the current years-long drought and storage levels have been falling since at least 2002, according to NASA satellite data.
"California has no contingency plan for a persistent drought like this one (let alone a 20-plus-year mega-drought), except, apparently, staying in emergency mode and praying for rain," said Familglietti. "In short, we have no paddle to navigate this crisis."
You can share this story on social media: