Police 'beat up' Ferguson shooting suspect - lawyer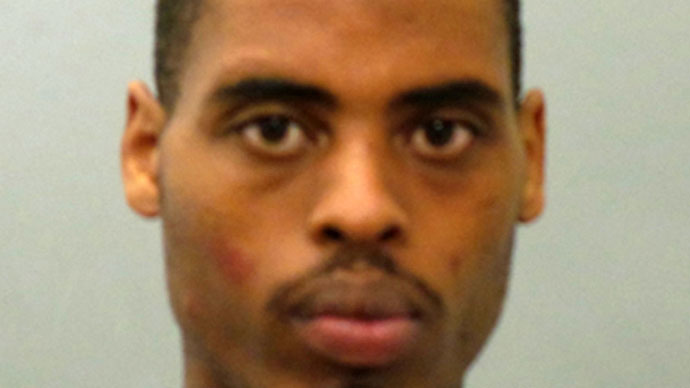 St. Louis police have roughed up the suspect in last week's shooting of two officers in Ferguson, and may have coerced a confession out of him, the man's lawyer claims. Police have rejected the allegations as "completely false."
After meeting with his client for two hours on Monday, attorney Jerryl Christmas said that Jeffrey Williams, 20, had been "beat up by the police," who "used a lot of force on him." Christmas said he was not allowed to take photos, but claimed that Williams had bruises on his back, shoulders, neck and face.
Williams was back in court on Tuesday, alleging abuse while in custody. A circuit court judge agreed to Christmas' request to photograph Williams in the courtroom. Prosecutors also took photos.
"With regard to the allegations that Jeffrey Williams was 'beaten' by police, the St. Louis County Police Department calls these allegations completely false," spokesman Brian Schellman said in a statement. He also noted that Williams was examined by a nurse upon arrival at the county jail, and that he did not resist arrest.
READ MORE: Man charged in Ferguson shooting that injured two cops
Police and prosecutors say Williams admitted to opening fire from his 2003 Pontiac Grand Am, but denied he had been targeting the officers. Court documents and the press conference following the arrest indicate Williams had told investigators that he had fired the shots at individuals with whom he had a dispute unrelated to the protest.
Williams was charged with firing a weapon from a vehicle, two counts of first-degree assault, and three counts of "armed criminal activity."
"Whatever statements he made, he was without the advice of counsel, and when I look at the bruising, it's hard for me assess if these were voluntary statements that he made," Christmas told reporters. He also said he didn't believe Williams had fired the shots.
Bishop Derrick Robinson, a clergyman who visited Williams in jail on Sunday, says Williams had fired into the air out of frustration, after being robbed at the protest on the evening of March 11. "He told me that he shouldn't have done it," Robinson told the Saint Louis Post-Dispatch. "He was embarrassed, he showed deep remorse, he wishes he could retract things."
Christmas confirmed his client was "remorseful" about the officers getting injured, but stopped short of admitting responsibility. "He just said he couldn't believe it and he felt bad," the attorney said.
READ MORE: 'This is really an ambush' – St. Louis police chief on Ferguson shooting
Though police officials originally deemed the incident an "ambush" and said the shooter had been a frequent face among the protesters, several activists told Reuters they didn't recognize Williams, and that he was never involved with the demonstrations.
"Clearly this was not a police ambush and police were never the target," Christmas said.
An officer with the St. Louis County Police and another from the nearby Webster Groves Police Department were struck in the shoulder and face, while outside the Ferguson station just after midnight on March 12. Demonstrators had gathered in front of the police department earlier that evening, after police chief Thomas Jackson's announced his resignation.
A Department of Justice report published earlier this month harshly criticized Ferguson PD conduct and practices, in the wake of last August's shooting of Michael Brown, an African-American teenager, by a white police officer.
You can share this story on social media: