​'This is really an ambush' – St. Louis police chief on Ferguson shooting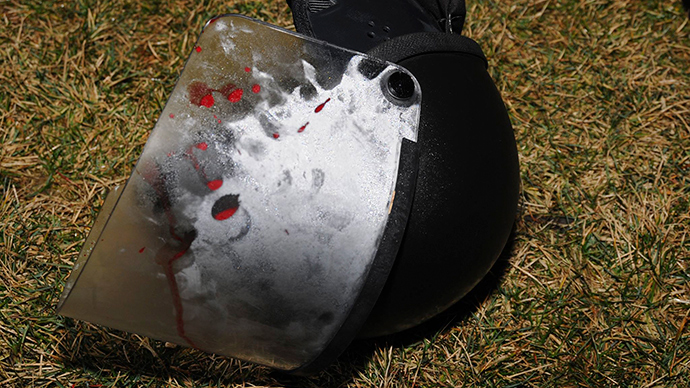 The two cops shot in Ferguson, Missouri on Thursday morning were the victim of an "ambush," the St. Louis County police chief said, but added that the officers will suffer no long-term injuries.
Chief Jon Belmar provided an update on the situation in Ferguson during a 9 am CDT press conference early Thursday, held just a few hours after two officers were shot near the city's police station.
"This is really an ambush," Belmar said.
"Fortunately, with both officers, we don't have any remarkable long-term injuries," the police chief said.
Belmar told reporters that a demonstration outside of the Ferguson Police Department building on Wednesday evening had turned "pretty rowdy" before two "defenseless" cops were shot.
The officers—identified so far only as a 41-year-old from the St. Louis County Police and a 32-year-old officer from the nearby Webster Groves Police Department—were struck in the shoulder and face, respectively.
Officials declined to weigh in on any potential leads concerning possible suspects during Thursday morning's presser, but Belmar said authorities believe bullets were fired from a handgun, based off of the sound of the gunshots and shell casings found at the scene.
With regards to possible suspects, Belmar said authorities have yet to identify any individuals sought in connection with the shooting. He added that there had been news reports of fist fights outside of the Ferguson Police Department before the shooting occurred, but said he could not independently verify what had happened before shots were fired.
Post by St. Louis County Police.
Ferguson has become a hotbed for protests in recent months following the August 2014 shooting death of Michael Brown, an unarmed African-American teenager, at the hands of local police officer Darren Wilson, who has since resigned from the force but has not been prosecuted over the killing.
After nearly a year of demonstrations — including protests that have at times turned quite heated—Belmar said on Thursday that "I think it's a miracle that we haven't had any instances similar to this over the summer at all."
The Department of Justice determined last week that a months-long probe into the shooting failed to produce information needed to charge Wilson with civil rights violations with respect to Brown's death. That same day, however, the DoJ said in a separate report that a federal investigation has "revealed a pattern or practice of unlawful conduct within the Ferguson Police Department that violates the First, Fourth and Fourteenth Amendments to the United States Constitution and federal statutory law."
At least two city officials, a Ferguson Police Department employee and the Ferguson city manager either resigned or were terminated from their role in the aftermath of the report's release, and on Wednesday this week the city's chief of police, Thomas Jackson, said he'd be leaving the department later in the month.
You can share this story on social media: