Kraft recalls 6.5 million boxes of mac 'n' cheese over complaints of metal pieces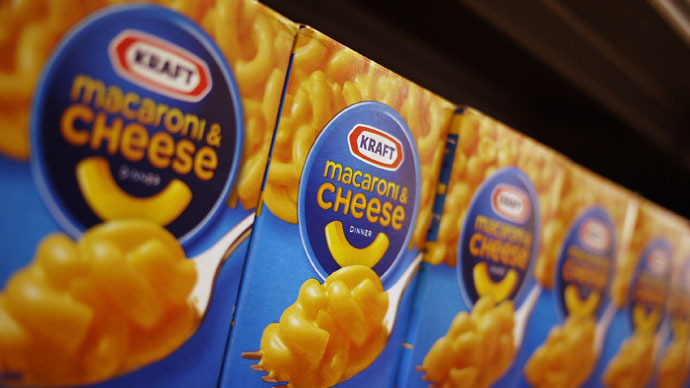 It took eight customers complaining about finding mental pieces in their macaroni and cheese before Kraft recalled 6.5 million boxes that had been distributed through the United States, Puerto Rico, the Caribbean and to some South American nations.
READ MORE:Coca-Cola pays health experts to suggest soda as a healthy snack
According to Kraft, the eight customers who contacted the company after finding metal pieces in their macaroni and cheese reported no injuries.
"Consumers who purchased this product should not eat it," Kraft said in a statement Tuesday. "They should return it to the store where purchased for an exchange or full refund."
Just found this coiled up piece of metal in my easy Mac @kraftmacncheese@kraftfoods#explainthispic.twitter.com/zjJCpaI9m5

— jake shat (@CoMoStreetArt) March 4, 2015
The company has warned customers not to prepare and eat macaroni that comes in the original flavor. Its 7.25-ounce-sized box sizes carrying a "best when used by" date ranging from between September 18 to October 11. They also have a code marked "C2' below the expiration dates. The code shows the specific factory line where the potentially tainted boxes were produced.
"We deeply regret this situation and apologize to any consumers we have disappointed," Kraft's statement read.
Kraft's macaroni and cheese products have generated more than $500 million in annual sales, with the company posting a net revenue of $18 billion in 2013, Reuters reported.
"@AverageLifeGoal: Be able to eat mac n cheese every meal of the day pic.twitter.com/f1U1QpRMBt" @chim_poe_cheeze

— mr. schuh (@schuski13) March 10, 2015
The item is not on the Food and Drug Administration's list of recalls and food safety alerts. The agency did not immediately respond with a comment.
READ MORE: Children's Tylenol maker to plead guilty for knowingly selling tainted drugs
This is not the first recall effort for Kraft. NBC news said last year the company recalled 1.2 million cases of cottage cheese products because they had been stored improperly and 260 cases of Velveeta cheese that did not have enough preservatives. In August, the company recalled more than 7,000 cases of its American Singles cheese slices after a supplier didn't properly store an ingredient.
You can share this story on social media: