EPA plumbing new depths to save water with 'Fix a Leak Week'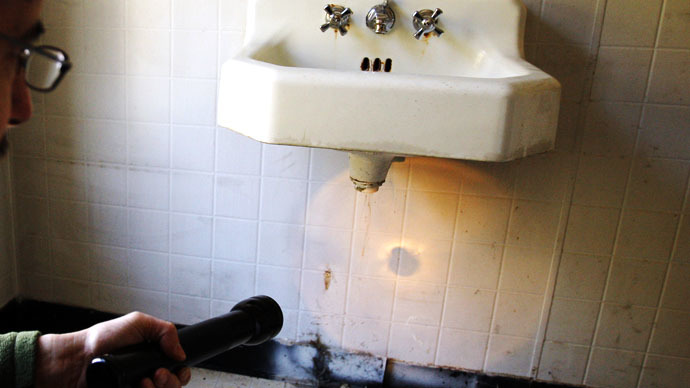 Americans are flushing billions of dollars down the toilet every year ‒ along with a trillion gallons of needlessly wasted water ‒ thanks to leaky plumbing. Now the Environmental Protection Agency is channeling Mr. Fix-It to get a handle on the problem.
The average household's leaks ‒ like dripping faucets, singing toilets or malfunctioning sprinkler systems ‒ can account for more than 10,000 gallons of water wasted every year, according to the EPA. Ten percent of American homes have leaks that waste at least 90 gallons of water per day.
Nationwide, more than 1 trillion gallons of water are wasted annually, which is equal to the annual household water use of more than 11 million homes. If that spilled water was conserved and transported to California, it would account for 40 percent of the drought-ridden state's water requirements for a year. With the Golden State having only a year's worth of water left, it's also 9 percent of the total water needed to end that multi-year dry spell.
To combat leaky lavatories and faulty flushers, the EPA is asking Americans to take the plunge and perfect their plumbing with its annual "Fix a Leak Week."
The agency suggests checking water meters before and after a two-hour period when no water is being used.
"If the meter does not read exactly the same, you probably have a leak," the EPA said on its website.
This week is Fix-A-Leak Week. A small drip wastes more water (and may cost you more money) than you may think! pic.twitter.com/r2c5Y2Et62

— Norhio Plumbing (@NorhioPlumbing) March 17, 2015
Another method is to add a drop of food coloring in the toilet tank. If the color shows up in the toilet bowl within 15 minutes ‒ and without flushing ‒ the toilet flapper or valve likely needs to be replaced. (The EPA notes that the loo should be sent through its cycle post-experiment so the dye doesn't stain the fixture.)
"Many people are surprised to learn that they've been wasting water for months or even years without knowing it because of hidden leaks, and that a few common repairs can quickly solve most problems," Danielle Dorsey, executive director of the Plumbing-Heating-Cooling Contractors Association's San Diego chapter, told KPBS.
Fix a Leak Week is here! It is simple to save water by twisting your aerators tighter or replacing with a new one! pic.twitter.com/s4Q0TvCz9N

— Kathy (@wtrkat) March 16, 2015
Cities are going with the flow, too, creating their own Fix a Leak Week programs.
In a Saint Patrick's Day tie-in, Georgia's Athens-Clarke County is running a "Potty O' Gold" contest, the Athens Banner-Herald reported. Utilities customers are encouraged to visit locations the county's Water Conservation Office has labeled "Certified Blue" ‒ specifically, restaurants and bars that are working to reduce their water usage and to be more efficient with the water they do use.
Several of the bathrooms at those sites have been decorated by the Water Conservation Office, and visitors are encouraged to share a photo on social media with the #pottyofgold hashtag to be entered in a drawing for either a $50 gift card to a Certified Blue restaurant or $150 to use towards a new, efficient WaterSense toilet.
The San Diego County Water Authority gave away toilet leak detection tablets at the city's Saint Patrick's Day celebration and World Water Day Festival on Saturday, KPBS reported.
In West Virginia, representatives from West Virginia American Water, the EPA and the state's Public Service Commission are visiting schools in Charleston and Parkersburg, the Associated Press reported. During the presentations, they will do activities to help students identify leaks and "deputize" the children to look for leaks.
READ MORE:Mayor Bloomberg's advice to students: Become plumbers
Fresno, California is urging its residents to reduce water use by 20 percent, as well as studying and improving its own water usage, the city said in a statement. It is also offering its citizens rebates to replace older toilets with more efficient WaterSense ones. Fresno also recommends teaching children to turn water off when they are brushing their teeth, among other behavioral modifications.
Fix-A-Leak Week starts NOW -save water & money- chase down running toilets & dripping faucets http://t.co/CXFuA8BbkFpic.twitter.com/eoOwWGdrNw

— City of Raleigh (@RaleighGov) March 16, 2015
The EPA is also looking for ways to modify behavior and monitor water usage away from home. The agency awarded the University of Tulsa in Oklahoma a $15,000 grant to create a wireless system that will track how much water a hotel guest uses.
"Hotels consume a significant amount of water in the US and around the world," the EPA grant said. "Most hotels do not monitor individual guest water usage and as a result, millions of gallons of potable water are wasted every year by hotel guests."
"The proposed work aims to develop a novel low cost wireless device for monitoring water use from hotel guest room showers," the grant continued. "This device will be designed to fit most new and existing hotel shower fixtures and will wirelessly transmit hotel guest water usage data to a central hotel accounting system."
The EPA also encourages hotels to upgrade their fixtures to more water-efficient ones via the WaterSense program.
You can share this story on social media: