Rand Paul calls for criminal justice reform in speech at historically black college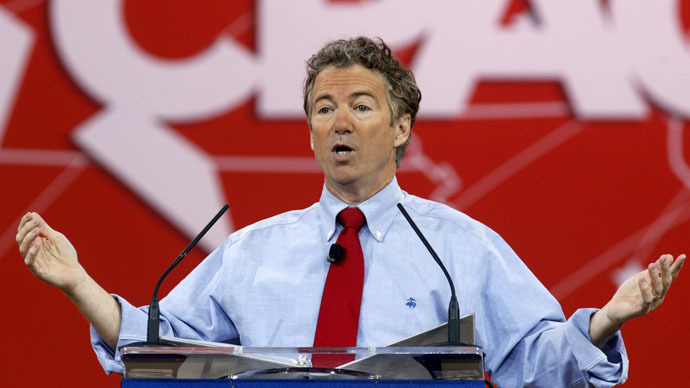 Sen. Rand Paul (R-Ky.) championed criminal justice reform and invoked Martin Luther King, Jr., while addressing a mixed audience at Maryland's Bowie State University, a historically black college, on Friday.
The Republican senator told the crowd of 200 students and community leaders that reforms to the justice system are necessary because current sentencing laws are harsh and disproportionally affect African-Americans, The Huffington Post reported.
READ MORE:Sen. Rand Paul backs destruction of ISIS, 'enjoining' Iran, Syria in fight
The speech was part of Paul's minority outreach effort ahead of his likely bid for president in 2016.
"We still have a problem in our country that that is something like segregation, but it is also somewhat like two systems," he said. "Or, as Martin Luther King said in 1957, there are two Americas." While one part of the country "believes in life, liberty and the pursuit of happiness," another side is "witness to a daily disgrace, a lack of hope, despair."
In his short address of 30 minutes, Paul spoke out against practices such as excessive fines that have become an economic boon to local governments, as well as the seizure of private assets by police prior to criminal conviction.
"It's predominately [affecting] African-American, it's predominantly [affecting] Hispanics. But if you want one common denominator, it's predominantly [affecting] people who live in poverty," he said. "It's unfair and it ought to stop. This is one thing the president and I agree on."
Speaking at a historically black college, Rand Paul makes case for criminal justice reform: http://t.co/yCMNKrteTipic.twitter.com/6TN1hcRd24

— The Hill (@thehill) March 13, 2015
Paul's comments were especially timely with the release of the Department of Justice's scathing report on abusive practices, like excessive fining, carried out by the Ferguson Police Department and the court system. The report, released last week, has led to the resignations of six officials so far – including a judge and police chief.
READ MORE:Rand Paul: Audit the Fed or I will hold up nominees
Paul argued against mandatory sentencing guidelines for non-violent offenders, saying the punishment for drug offenses may deprive households of a potential wage-earner, and a conviction can affect an offender's chance of finding a job. His proposed 'Redeem Act' legislation would allow for non-violent felons' records to be expunged once they've completed prison time.
"Something is wrong here," he said. "There's a racial outcome to this. I don't think there's a racial intention, but I tell people that they're not looking if they don't think the incarceration problem in our country is not skewed toward one race."
Paul also touched on a warning about the National Security Agency's surveillance programs, reminding an audience composed of about as many African-Americans as whites to "think about how Martin Luther King's phone was tapped." He also called for a smaller tax burden on businesses to spur economic growth, and giving parents more choice in deciding which schools their children can attend.
READ MORE: Senators given access to doc authorizing drone killing of American
Paul took three questions from the crowd, which were written on cards and selected by a moderator. He was asked about his position on oil and gas exports, to discuss his medical marijuana legalization bill, and to reflect on the gains made by African-Americans over the decades.
Reaction to Paul's speech among Bowie State students was mixed.
"I thought he handled himself really well," Ryan Washington, a freshman political science major, told the Capital Gazette. "I liked some of the view he discussed, such as reducing the taxes on corporations and business to help them provide more jobs and opportunities for people."
Rob Stubblefield, a grad student, endorsed some of Paul's ideas on economics and reforms for the criminal justice system, but he was skeptical.
"With politicians, it's kind of tricky," he told the Capital Gazette. "They usually try to say things to get the support of the people. That's what all politicians do, regardless of if they're on the left or the right part of the spectrum. The message seemed a little tailored."
You can share this story on social media: