Sen. Rand Paul backs destruction of ISIS, 'enjoining' Iran, Syria in fight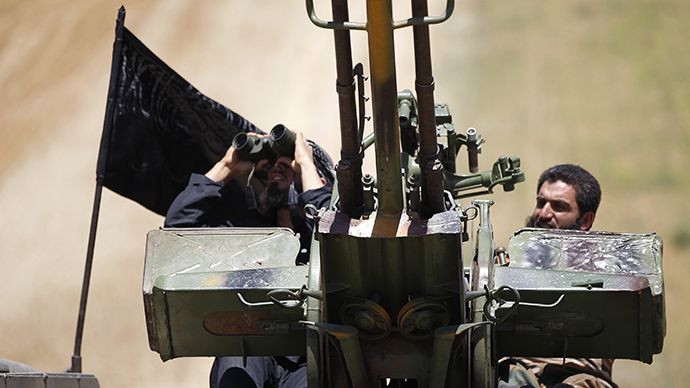 US Senator Rand Paul has come out in favor of "destroying" the Islamic State extremist group, even suggesting the idea of bringing Iran and Syria into the fight. While backing US military action, he said it should only play a supporting role.
The comments were first made last Friday, when the Kentucky Republican – and potential 2016 presidential candidate – told the Associated Press that he would ask Congress for the authority to attack and annihilate Islamic State militants, also known as ISIS or ISIL.
"If I were president, I would call a joint session of Congress," he said via email. "I would lay out the reasoning of why ISIS is a threat to our national security and seek congressional authorization to destroy ISIS militarily."
Elaborating on his position during a radio interview with Sean Hannity on Wednesday, Paul said he would quickly end Congress' current recess in order to seek military authorization, which he believes would be easily granted. He added that in addition to forming a powerful American response, he would "enjoin" Turkey, Syria, and Iran in the fight against the hardline Sunni Muslim group.
"Right now, the two allies that have the same goal would be Iran and Syria, to wipe out ISIS," he said, as quoted by Buzzfeed. "They also have the means and the ability and they also have the incentive to do so because Assad's clinging for power and clinging for life there."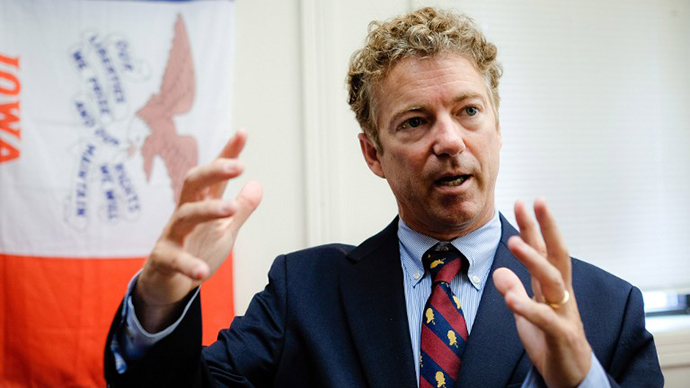 Despite the hawkish position Paul has now staked out, he reiterated his belief that US troops should not be the ones carrying out the bulk of the fighting. Instead, regional players like Iran and Turkey should step up their campaign against the militants while the US provides other forms of support.
"So I also think that Turks really should be enjoined in this. And I do think that there can be a role for America," he stated. "We can give both technological as well as air support. That could be the decisive factor in this."
Paul's remarks come as a notable turnaround from the kind of statements he had made in the past. In August, Paul criticized former Secretary of State Hillary Clinton – another potential 2016 contender – arguing that as the next president she could be a good bet to place the US in another war in the Middle East. He also described her as a "war hawk."
"We're worried that Hillary Clinton will get us involved in another Middle Eastern war, because she's so gung-ho," Paul added.
A couple of months before that, Paul blamed US foreign policy for creating "jihadist wonderlands" in the Middle East. He also blamed the rising threat of jihadists against America on the US arming rebels in Syria that were not as moderate as they were said to be.
"We went into Libya and we got rid of that terrible Gadhafi. Now it is a jihadist wonderland over there," Paul said in June. "There's jihadists everywhere."
"If we were to get rid of Assad, it would be a jihadist wonderland in Syria. It's now a jihadist wonderland in Iraq, precisely because we got over-involved, not because we had too little involvement, but too much involvement."
Paul's recent comments come as President Barack Obama has moved to bolster the American military effort against Islamic State militants in Iraq. On Tuesday, Obama announced that 350 more troops would be deployed to Iraq to improve diplomatic security, and airstrikes continue to be conducted inside the country.
There has also been speculation that Obama is considering the use of force inside Syria, where militants occupy key strongholds. US Secretary of State John Kerry and Defense Secretary Chuck Hagel are also scheduled to visit the Middle East in order to help craft a stronger regional response to the problem.