​US mulls airstrikes in Syria, gets intelligence on Islamic State targets – reports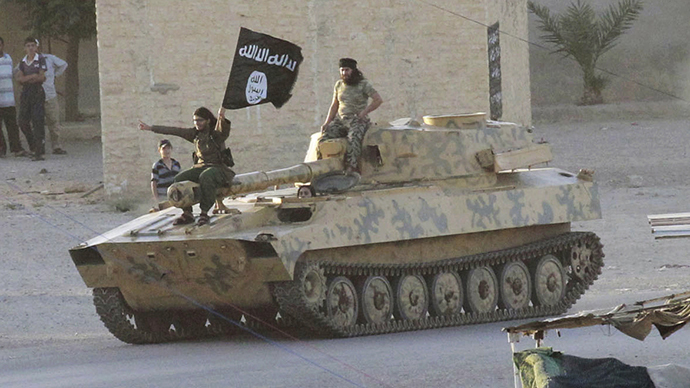 In order to stop the Islamic State from gaining more power, the United States is prepared to use a variety of options, including airstrikes in Syria without Damascus' consent, if backed by regional and European partners, US officials said.
The border between Iraq and Syria is "essentially non-existent" at this point, General Martin Dempsey, chairman of the Joint Chiefs of Staff, said last week, hinting the US would eventually need to strike the Islamic State positions in both states.
"With Central Command, (Dempsey) is preparing options to address ISIS both in Iraq and Syria with a variety of military tools including airstrikes," Dempsey's spokesman, Col. Ed Thomas, confirmed on Monday.
"The bottom line is that our forces are well postured to partner with regional allies against ISIS," he added, stressing that a coalition of "capable regional and European partners" is needed to tackle the issue. Speaking to Reuters, two other US officials confirmed preparation of military action in Syria had been underway for weeks.
With no final decision yet made, President Obama is "committed to coordinating and consulting with Congress," but "will not hesitate to use his authority" to protect Americans, White House spokesman Josh Earnest said.
In the meantime, apparently to gather more intelligence on potential targets, the Pentagon is already preparing to send drones and surveillance aircraft into Syrian airspace.
"The Pentagon is preparing to conduct reconnaissance flights over Syria," a senior US official told The Wall Street Journal. "There is no decision yet to do strikes, but in order to help make that decision, you want to get as much situational awareness as possible."
Syrian air-defense systems won't be a threat, the source told WSJ, adding that the drones would enter Syrian airspace without any approval or authorization from the Syrian government.
Syria's Foreign Minister meanwhile warned the US on Monday that "any strike which isn't coordinated with the government will be considered as aggression."
"Syria is ready to cooperate and coordinate on the regional and international level in the war on terror," minister Walid al-Moallem said. "But any effort to combat terrorism should be coordinated with the Syrian government."
He reminded that for years Syrian officials have been warning about the terror threat posed by radical Islamist fighting in Syria, and the need to cut off their funding and resources.
"Has the West ever condemned the massacres by the Islamic State and Nusra against our armed forces or citizens?" the minister asked, at the same time condemning the brutal killing of an American journalist James Foley by IS terrorists last week.
"Had there been prior coordination [with Syria] that operation wouldn't have failed," added al-Moallem, referring to a failed attempt by US forces to rescue the journalist.
Syria is ready to join any regional or international alliance against the Islamic State, the minister said, emphasizing that any military action should be coordinated with the government "which represents Syrian sovereignty."
The IS fighters – known for torture, public punishments and executions of those opposing them – have gained significant ground in both Syria and Iraq after its initial blitz assault on the Iraqi city of Mosul in mid-June. The group has since declared the creation of an Islamic State, or caliphate, straddling the Iraq-Syria border.
In order to stop the Islamic State advance and protect US citizens and interests in Iraq, the United States has launched almost 100 airstrikes on terrorist positions since beginning of a limited air campaign on August 8. In a macabre response to that military action, Islamic State released a video last week depicting the beheading of American photojournalist, James Foley, who was missing since 2012 after being kidnapped in Syria.