Starving & sick: Sea lion pups wash ashore in record numbers, global warming blamed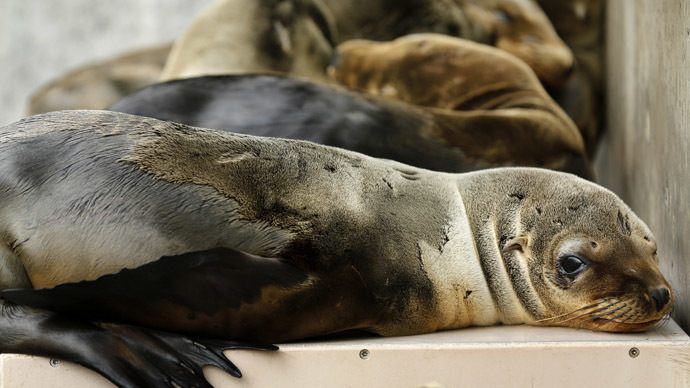 More than 1,500 starving sea lion pups have washed ashore on the California coast this year, many of which are on the brink of death. Animal rescuers are overwhelmed with calls to save them. A weather phenomenon caused by global warming may be to blame.
The emaciated pups are arriving at more than five times the normal stranding rate in the Golden State, from the shores of San Diego up to San Francisco.
Many are sick with pneumonia. Parasites have swarmed their digestive systems. Some are so tired that they cannot scamper away when rescuers ‒ or predators such as dogs ‒ approach them, the New York Times reported.
RT @Greenpeace: Warming oceans have flooded California with starving sea lion pups. http://t.co/dJhC3qjMLnpic.twitter.com/nd9hew2RUI

— Reverend Billy Talen (@revbillytalen) March 3, 2015
"They come ashore because if they didn't, they would drown," Shawn Johnson, the director of veterinary science at Marine Mammal Center in Sausalito, told the Times. "They're just bones and skin. They're really on the brink of death."
Peter Wallerstein, director of Marine Animal Rescue in Los Angeles County, said his center is overwhelmed by the record number of sea lions in need of help.
Warming oceans have flooded California with starving sea lion pups http://t.co/pVjqTufzM7pic.twitter.com/lGEMcFSkmP

— Quartz (@qz) February 26, 2015
"I'm just dealing with it one animal at a time, as best as we can," Wallerstein said in an interview with Yahoo News. "We rescued four today [even though] we are limited to three a day because the rehab center is so full. We had to leave some adults on the beach. It's like a paramedic not having a hospital to bring a patient."
"It's the highest number I've had in 29 years of rescues," he said. "We get like 50 calls a day on sea lions."
"I've had more than 200 so far this year," Wallerstein told KNBC. "So, we've doubled our rescues and there seems to be no end in sight."
"@KTLA: Rescuers unable to keep up with number of stranded sea lion pups http://t.co/vFBAq0rzS3pic.twitter.com/GGT23mz3qb" im gonna cry :(

— shy (@shyennenikole_) March 10, 2015
"There are so many calls, we just can't respond to them all," Justin Viezbicke, who oversees stranding issues in California for the National Oceanic and Atmospheric Administration (NOAA), said on a conference call with reporters. "The reality is, we just can't get to these animals."
It takes a lot of fish to feed all these hungry rescued sea lion pups but our team is ready to go! #SaveTheSeaLionspic.twitter.com/sNiMpzW131

— SeaWorldCaresCA (@SeaWorldCaresCA) March 10, 2015
SeaWorld announced last Friday that it was canceling its sea lion and otter show for at least two weeks. Instead of performing, the trainers will help the park's Animal Rescue team to provide aid to the sea lions stranded along the San Diego coastline.
"SeaWorld's entire zoological staff is working tirelessly to save the lives of these emaciated and ill animals. [We] have already rescued more than 400 sea lions in 2015, which is more than twice the number of marine mammal rescues the park would average in a typical year," the theme park said in a statement. "While the temporary closure of the sea lion and otter show may be a minor inconvenience to guests, we feel that it is important to ensure we provide the highest level of care necessary to give these stranded sea lions a second chance at life."
Publicity Stunt or Genuine Caring? #SeaWorld Suspend #SeaLion Shows to Save Wild Pups In Peril http://t.co/38t6LGo4cjpic.twitter.com/THJo4lqfLI

— PROTECT ALL WILDLIFE (@Protect_Wldlife) March 10, 2015
Experts believe this year's El Niño-type conditions ‒ bands of abnormally warm water have swept up the Pacific Coast since the waning months of 2014 ‒ might be responsible for driving sea lion prey deeper into the sea.
"It's been a really unusually warm year, and disruptive to the normal marine food web, from Baja all the way up to Alaska," Nate Mantua, a climatologist with NOAA's Southwest Fisheries Science Center, told National Geographic.
NOAA has not officially declared an El Niño, however.
With the animals' prey further away from their nesting grounds on the Channel Islands ‒ an eight-island chain off the Southern California coast ‒ mothers are leaving their pups for longer periods of time to hunt for food. The babies then begin to starve.
Dramatic increase of starving sea lion pups in #Californiahttp://t.co/SorAwnPzNH#climatepic.twitter.com/fFTRgb9P51

— Alexander Verbeek (@Alex_Verbeek) March 8, 2015
"The prey source is just too far away for the mothers to go out, get food and come back and wean the pups," Jim Milbury of the National Marine Fisheries Service (NMFS) told Yahoo News.
The pups then try to fend for themselves, but they are too young to travel far, dive deep or truly hunt on their own, scientists told the Times.
The sea lions are turning up under fishing piers and in backyards, along inlets and on rocky cliffs. One was found curled up in a flower pot.
Even the pups that remain on the Channel Islands are suffering. The NMFS ‒ a part of NOAA ‒ found that pups on the eight islands were 44 percent underweight, Common Dreams reported. Sharon Melin, a NMFS wildlife biologist, blamed climate change.
Great to spend time w @sullyfoto@TMMC for this @washingtonpost article about sea lion influx http://t.co/eqDUM9j3LApic.twitter.com/Jn0x3xpjFy

— Claire Simeone (@Claire_Simeone) February 28, 2015
"The environment is changing too rapidly," Melin said. "Their life history is so much slower that it's not keeping up."
The ocean is up to five degrees warmer in the northeast Pacific and off the West Coast ‒ probably a record, Mantua told the Associated Press. The same high-pressure system has caused has a four-year drought in the state.
The world experienced record-breaking ocean temperatures in 2014, and, for the first time, the rising measurements were not due to an El Niño phenomenon at the beginning of the year.