Massive tanker fire on I-94 outside Detroit, both directions shut down (VIDEOS, PHOTOS)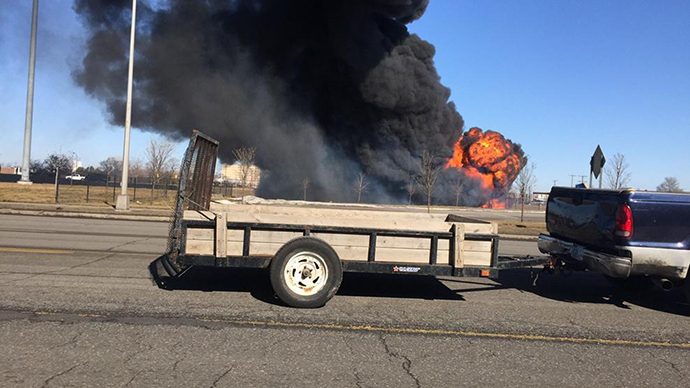 A tanker has caught on fire after a blast on I-94 near Detroit, local media report. Both directions were closed for several miles following the incident in Dearborn, Michigan.
At least two other vehicles caught on fire after the tanker exploded at around 11 am local time, WXYZ Detroit reports. Flames also started coming from sewer system manholes.
The tanker was carrying 6,800 gallons of gasoline and 5,800 gallons diesel fuel, fire officials told WWJ. It took nearly two hours for the firefighters to sustain the blaze.
Tanker fire #i94 and Wyoming in #detroit#local4https://t.co/1ZwzFuemu0

— Michael (@MikeThePhotog) March 11, 2015
Two patients were treated for minor injuries at Oakwood Hospital in Dearborn, officials said.
"We have located all of the people, we have taken one to the hospital and everyone else had minor bumps and bruises," Dearborn Fire Chief Joseph Murray told Channel 7 News.
#Sky4 over large tanker fire on #I94 near Wyoming #local4#Detroitpic.twitter.com/c1U2Rj6UI1

— Michael (@MikeThePhotog) March 11, 2015
Witnesses told local media they heard several explosions and felt buildings shake. Mishaun Thompson, a driver, also told WXYZ that she saw a vehicle flip over the median onto the west side of the freeway.
#i94 closed at Wyoming. Crews arriving on scene. #local4#breakinghttps://t.co/NTvg19CKfd

— Michael (@MikeThePhotog) March 11, 2015
Extensive damage is expected.
"We did hear from one of our MDOT folks from the scene that the sewer lines are in fire as well in that area," MDOT Spokesperson Diane Cross told WWJ Newsradio 950. "Which means that whatever was in that truck that exploded did sent the flame and materials into our drains, all of that is going to have to be worked out once we get this fire out."
UPDATE: Photo gallery shows massive tanker fire that has closed I-94. View pics: http://t.co/a5BLUm7IrXpic.twitter.com/k8qITlGS1D

— WXYZ Detroit (@wxyzdetroit) March 11, 2015
The tanker truck driver managed to safely escape. The vehicle belongs Rex Carriers trucking company.
#LIVE: Massive tanker fire, I-94 closed in both directions in Dearborn: http://t.co/aHpD7bfuAwpic.twitter.com/KDqpeSpiq7#detroit

— Andrew Collins (@ACollinsPhoto) March 11, 2015
Tanker fire on I-94 East bound(cf. Detroit, Michigan) near Wyoming & Dearborn border. Possible electronic hi jacking. pic.twitter.com/4SVMDIX1qm

— Лиса в пустыне (@KamiloTapiya) March 11, 2015
Wowza. You could see the smoke all the way from downtown Detroit! http://t.co/2UdUqjX9p9http://t.co/2UdUqjX9p9pic.twitter.com/ErPwQhWRdu

— The Now Detroit (@TheNowDetroit) March 11, 2015
The freeway is to remain closed for an indefinite amount of time. The public is asked to avoid the area.
Firefighters from Dearborn and Detroit trying to control fire from tanker explosion http://t.co/EylZs5DA42pic.twitter.com/Bfj98toN8o

— Local 4 WDIV Detroit (@Local4News) March 11, 2015
You can share this story on social media: