Secret Service to carry out drone tests over Washington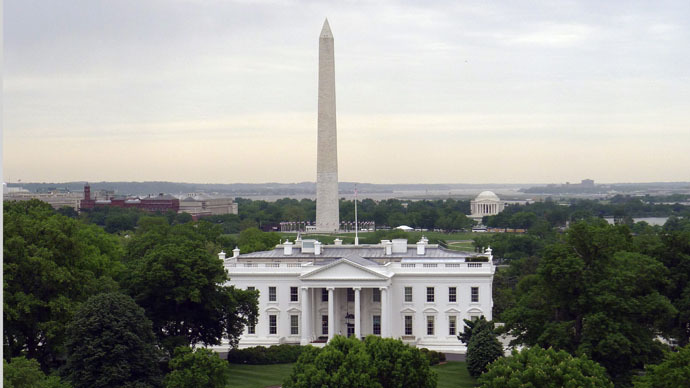 The US Secret Service is to carry out secret drone flights over Washington over the next few weeks. This is part of a covert government program to find ways to counter rogue drones that could threaten sensitive buildings in the city.
Washington is a strict no-fly zone, but an exception is going to be made for the Secret Service. A series of drone flights will take between 1 am and 4 am as the intelligence body looks at ways to stop potential civilian drones that could pose a threat to national security. Techniques including signal jamming will be used, according to AP, who learned about the proposed tests from a US official.
Intelligence agencies fear that drones could be potentially used by terrorists as the unmanned aircraft are powerful enough to carry small amounts of explosives or a grenade. Recent rogue drone sightings in Paris have proven how difficult it can be for law enforcement or security agencies to keep track of them.
READ MORE: US Embassy, Eiffel Tower: Unknown drones buzz Paris landmarks
French aviation and air safety expert Christophe Naudin at the time of the Paris incidents said it was very difficult to keep tabs on an unmanned aircraft flying in a built up area.
"It's almost impossible to keep track of a drone in a city," said Naudin, speaking to The Local. "If you were in the countryside it would be easier, but not in Paris. You can't follow it from one building to another, even in a very cast car."
This is why the US security services are looking at jamming techniques as a possible way to stop potential drone attacks. The majority of drones are operated via common radio frequencies that are similar to Wi-Fi or Bluetooth signals. The Secret Service believes that signals from a drone, such as a video transmission, would allow them to detect and track the unmanned aircraft and then deal with it as they see fit.
The downside would be residents in the vicinity would have their Wi-Fi and mobile phone signals jammed for as long as the jamming device was switched on.
READ MORE: Draft FAA drone regulations ban 'out of sight' use of civilian UAVs
The Secret Service decided to make the public aware of their plans to test drones above the night skies of Washington to ensure that there is no widespread panic. However, the intelligence body did not say how many drones would be used, or over which parts of the city they would travel.
Reports have previously disclosed that the Secret Service already uses jammers in presidential and vice presidential motorcades to disrupt signals that might be able to remotely trigger a bomb.
According to Jeremy Gillula, who is a staff technologist at the Electronic Frontier Foundation, there are three ways to stop a drone. These involve blocking the radio signal between the drone and its controller, hack the unmanned aircrafts control signals, or physically destroy it. He also added that some drone makers have a so called "geo-fence" programmed into the device, which does not allow the unmanned aircraft to fly into restricted areas, while suggested that nets could be used to stop them flying into unwanted zones.
"If it were me that would actually be the first thing I would think about doing," Gillula told AP. "You would have to basically encase the White House in this net. It sure wouldn't look pretty, but in some ways it would be the most effective way."
READ MORE: Off-duty drunk federal employee flew drone over White House - report
In February, the FAA also unveiled preliminary guidelines for the use of small commercial drones. The regulations would prohibit the use of unmanned aircraft out of sight of the person piloting the drone. It was also stated that flights would have to take place during the day and would need to fly below 500 feet (150 meters) and travel at a speed of less than 100 mph (160 km/h).
FAA Administrator Michael Huerta said that they tried to remain "flexible" when compiling the guidelines. "We want to maintain today's outstanding level of aviation safety without placing an undue regulatory burden on an emerging industry."
Meanwhile in January, an off-duty Department of Defense employee caused a stir in Washington, after he flew his friend's drone into the grounds of the White House after he had been drinking.
What the incident has revealed, however, is that despite the White House having a radar system to detect flying objects, it missed the drone. This is causing authorities to worry about security risks posed by unmanned aerial vehicles.
You can share this story on social media: