Animal research projects halted at USDA until livestock treated better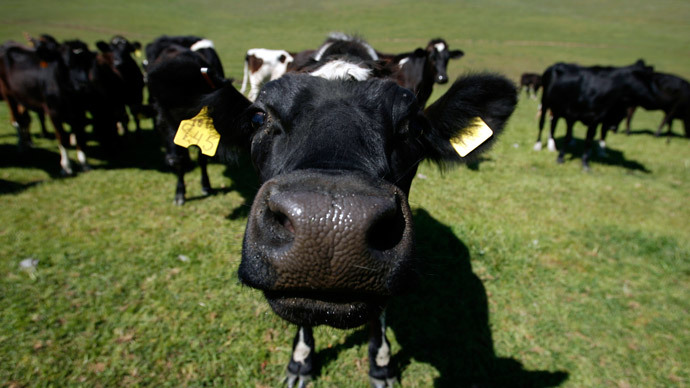 The US Department of Agriculture halted new research at a Nebraska livestock study center following a damning report by The New York Times that said staff ignored animal welfare practices for decades, leading to starvation, cruel practices, and deaths.
Secretary of Agriculture Tom Vilsack's announcement on Monday coincided with the release of a draft USDA report that found "no instances of animal abuse, misuse, or mistreatment were observed" at the Nebraska US Meat Animal Research Center following The Times report in January. The investigators did find, however, that the center's committee was not in compliance with agricultural research policies and that it failed in its oversight duties and keeping track of animal care.
Secretary Vilsack told USDA staff to update electronic record-keeping at the taxpayer-funded center to ensure all animals are being monitored and care for. The agency announced it was looking into the conditions of its animals at the center, which conducts research to improve the profitability of the US livestock industry, after a whistleblower veterinarian employee there contacted the Times.
USDA cracks down on nightmare meat experiment facility http://t.co/4tb6XjYheapic.twitter.com/Gwij8w7Y4c

— The Dodo (@dodo) March 9, 2015
The independent panel that conducted the review said the center's Institutional Animal Care and Use Committee provided the review panel no evidence that it met regularly to discuss issues or concerns over animal care, and no evidence of a formal review or approval process for research projects proposed by the oversight committee members themselves.
"There appears to be a formal and informal process for research project approvals. There needs to be one process that is followed," John Clifford, the USDA's chief veterinary officer with the agency's Animal and Plant Health Inspection Service, wrote in the draft report.
Clifford added, "I believe they do take personal interest and care of animals but need to keep better records of [the] formal process."
READ MORE:Crying fowl: McDonald's ditching antibiotic-stuffed chicken
Other problems identified included: uncertainty over who is responsible for, and in charge of, oversight for animal care and welfare in the cooperative arrangement between the US Meat Animal Research Center and the University of Nebraska-Lincoln; and no evidence of a clearly defined animal handling training program or documentation that staff have completed such training.
The whistleblower, Dr. James Keen, worked at the center for 25 years, where he witnessed experiments meant to help farmers, such as cows and pigs having more offspring to increase profitability.
READ MORE:'Distressing & disturbing': 2mn animals experimented on at UK universities
Keen told the newspaper that cows which normally have just one calf were having two or three calves – though they were often weak and unhealthy. Pigs, instead of having six to eight piglets, were giving birth to 15. Many piglets were crushed by the sows in tight pens and the piglets were bred to be lean – so lean, in fact, that one in five couldn't reproduce.
The center houses more than 500,000 animals, and there is no staff member with a veterinarian degree. Instead, the center has veterinary teachers and university students.