​WikiLeaks still under investigation, but not its supporters, says DOJ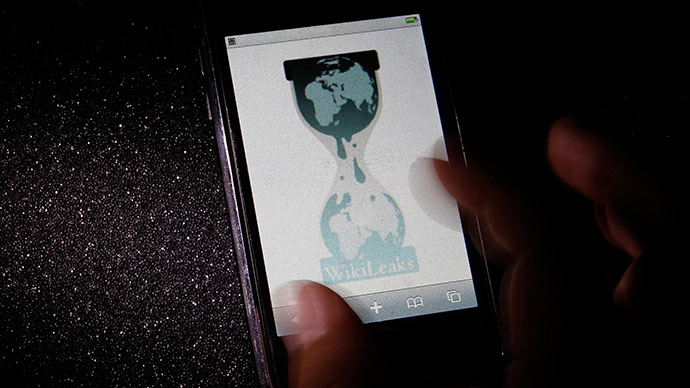 Documents pertaining to the United States government's probe of WikiLeaks can stay secret, a federal judge has ruled, because disclosures could compromise the Justice Department's still ongoing investigation of the antisecrecy organization.
Four years after US Attorney General Eric Holder first confirmed that the online transparency group was officially the subject of a Dept. of Justice inquiry, this week has seen a ruling which is a rare acknowledgment that the government is still gunning to bring charges against WikiLeaks and likely its editor, Australian editor-in-exile Julian Assange.
The DOJ is not required to heed certain Freedom of Information Act requests for documents about its WikiLeaks probe, US District Judge Barbara Rothenstein opined on Wednesday, because doing as much would "reveal information regarding the scope of this ongoing multi-subject investigation."
Just now: US gov confirms ongoing pending natsec prosecution of WikiLeaks in attempt to withold docs http://t.co/dk55tVFWBY@Ausflatfish

— WikiLeaks (@wikileaks) March 4, 2015
At the same time, though, the district court judge also said in the ruling that the arguments presented during the course of the last three years lead her to believe that, contrary to the plaintiff's complaint, the government is not singling out supporters of the whistleblower website.
WikiLeaks has been an indisputable target of the US – and vice versa – through the majority of the organization's existence, beginning officially with the attorney general announcing the authorization of "significant" actions against the group in 2010 soon after State Dept. diplomatic cables were published on its website, WikiLeaks.org.
The subsequent espionage trial of the information's source, Chelsea Manning, concluded in 2013 after being waged largely in secret, but the US government has otherwise gone without charging any other persons directly with regards to collaborating with WikiLeaks – sporadically acknowledging along the way that investigative actions have nevertheless been taken against suspected associates of the whistleblower group, American and otherwise, ending every time so far without indictment.
Attorneys with the Electronic Privacy Information Center, a DC-based civil liberties group, sued in 2012 after the government refused its requests for documents concerning "any individuals targeted for surveillance for support for or interest in WikiLeaks" and "all records regarding lists of names of individuals who have demonstrated support for or interest in WikiLeaks." [PDF]
Weighing in on that complaint following nearly three years of legal back and forth, Rothenstein wrote this week that the FOIA request "has not produced documents" because "there are no surveillance records for individuals, who 'simply support' or have interest in WikiLeaks."
"[T]here is no support for the notion that Defendants' investigation into the unauthorized publishing of classified material on WikiLeaks is pretext and that Defendants are conducting illegal investigations of innocent WikiLeaks supporters," she wrote. "The FBI specifically states that it 'is not investigating individuals who simply support or have an interest in WikiLeaks,' and 'does not...maintain lists of individuals who have demonstrated support for or interest in WikiLeaks, and thus has no records responsive to this portion of Plaintiff's request.'"
"After reviewing the defendants' declarations and exhibits attached thereto, the Court finds that Plaintiff's speculation fails to rebut the presumption of good faith that is afforded to agency declarations."
Rothenstein also wrote that the government has been right insofar as to its decision to withhold certain documents discovered during the course of proceedings, because they are related to "law enforcement duties to enforce criminal laws and to protect against national security threats."
The court failed to outright side with the government on every matter, however, and said that the DOJ's National Security Division, or NSD, failed to demonstrate that it had properly searched its own records for documents relevant to WikiLeaks despite being compelled by EPIC's FOIA requests.
"[I]t does not appear that NSD used any search terms to search its records, or, if it did, NSD does not provide these search terms to the court," Rothstein said. "This is especially troubling given the specificity of EPIC's request, which expressly included the names of people and companies it sought information about."
Regardless of whether the agency is able to identify any documents relevant to EPIC's request, those involved intimately with WikiLeaks say the latest court decision is bad news for the organization and suggests that the government has not pulled the plug on its probe just yet.
"We are talking about a serious, multi-subject long-term investigation of WikiLeaks and its people," Michael Ratner, an American attorney for the website and its editor, told the Guardian on Thursday. "This confirms in spades that the US authorities are coming after WikiLeaks and want to close it down."
American officials have not yet admitted as much, and just the opposite could be at hand. The Washington Post reported in late 2013 that it was unlikely Assange would be charged under the Espionage Act because it would mean a number of US news organizations would also have to be prosecuted for publishing secrets. Fearing the possibility that an indictment
The Espionage Act – an anti-spy law created during World War One punishable by death – has indeed been used to bring charges against Manning, the WikiLeaks source, as well as other government employees alleged to have shared state secrets with journalists.
Since 2009, the Obama administration has prosecuted eight people under the Espionage Act related to sharing classified details.
Manning aside, WikiLeaks collaborators have yet to see any formal charges filed in the US. Throughout the duration of the government's probe, however, it has become clear that authorities are interested in learning about individuals close to Assange's organization.
Jacob Appelbaum, an American-born former spokesperson for WikiLeaks, had his internet records and online communications subpoenaed in 2010, and David House, a friend of Manning's, was interrogated by Homeland Security officials about the website and forced to surrender his electronics that same year. Revelations in the time since have revealed the existence of US-led investigations into British and Icelandic individuals, including journalists and activists, who have at one point or another been linked to the website, although charges stateside have failed to materialize.
READ MORE: Google waited six months to tell WikiLeaks about government surveillance - report
Although Judge Rothenstein wrote this week that she has been convinced by the government's claims, Wednesday's opinion comes 10 months after DOJ attorneys last wrote in court of the "ongoing" WikiLeaks investigation. A gag order that had kept Google from telling WikiLeaks employees that their email records had been surrendered to the government has since been lifted, suggesting at least the aspect of the investigation involving those targets has subsided.
Jeremy Hammond, a Chicago hacktivist, was arrested three years ago Thursday and is serving a decade in prison, in part for breaking into a private intelligence firm's computer network and taking sensitive emails later provided to WikiLeaks. Barrett Brown, a Texas journalist, is currently in prison at least partially for aiding Hammond after the hack occurred.
Attorneys with the DOJ and EPIC did not immediately return RT's request for comment. Speaking to The Guardian, Assange said:"My God, I know I am an Australian, but that doesn't mean that WikiLeaks deserves a kangaroo court."