Alabama county halts all marriages over same-sex ruling
Published time: 4 Mar, 2015 15:24
Edited time: 4 Mar, 2015 15:50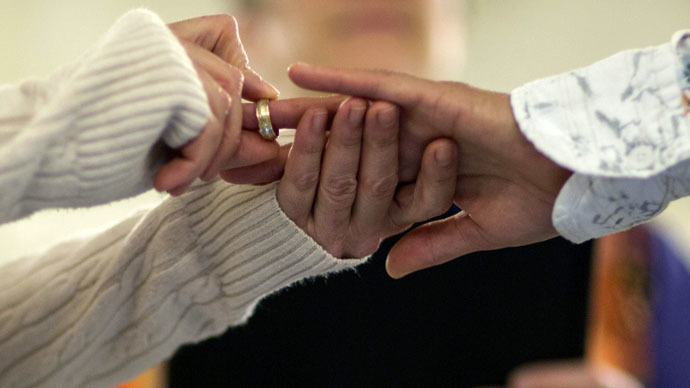 The probate court of Mobile County in Alabama said Wednesday that it has stopped issuing marriage licenses altogether after being instructed a day earlier to cease giving licenses to same-sex couples.
A statement posted on the court's website on Wednesday morning said the county of nearly half-a-million people "will not issue any marriage license to any applicants" until a proper review is undertaken of the Alabama Supreme Court ruling from earlier in the week.
"Until said analysis is completed, the Court will not issue any marriage license to any applicants. We regret having to take this action, but feel that it is necessary given the unprecedented circumstances that currently exist. It is the Court's intent to comply with all law governing its operations and to not discriminate in any manner against any person. We regret any inconvenience this action may cause any party."
The Associated Press reported that the latest decision comes amid conflicting rulings in the state. A federal judge had ordered Mobile County's probate judge to give marriage licenses to same-sex couples, AP reported, but that decision was overturned on Tuesday evening when the Alabama Supreme Court said probate judges across the state must stop issuing marriage licenses to gay couples.
"As it has done for approximately two centuries, Alabama law allows for 'marriage' between only one man and one woman," the high court said in a 7-1 ruling handed down in a 134-page order published on Tuesday. "Alabama probate judges have a ministerial duty not to issue any marriage license contrary to this law."
AL.com reported that the Supreme Court ruling "gives probate judges five days to submit responses if they want to show cause why they should be able to grant marriage licenses to same-sex couples." In the case of Mobile—the second most-populous county in the state—all planned marriages are now indefinitely on hold.